Advertisement
March 27, 2006 17:54 IST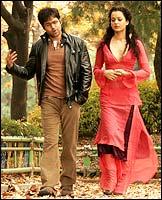 Gangster - A Love Story has quite a few things about it that make you go 'hmmm.'
For starters, the story is said to draw inspiration from the real life romance between underworld don Abu Salem [Images] and Bollywood starlet Monica Bedi [Images]. That probably explains the film's rather awkward title.
It is the first Indian film to be extensively shot in the picturesque locales of Seoul, South Korea.
It introduces a silver screen debutante, Kangna Ranaut [Images]. Directed by Anurag Basu, this Mahesh Bhatt [Images] presentation co-stars her opposite Emraan Hashmi [Images] and Shiny Ahuja.


| | |
| --- | --- |
| | More on rediff.com! |
| | |
And in the soundtrack album, music director Pritam churns out some neat tunes.

The opening track Tu hi mera shab hai strikes a chord with its effervescence. Bolstered by an infectious rhythm and K K's spirited rendition, this song sure has the makings of a chartbuster.

There is nothing too flashy about Bunty Rajput and Jatin Sharma's respective remixed versions of the same. Both the electronically reworked versions go easy on the beats even as the tempo accelerates. 

Bangladeshi singer James makes an impressive debut with Bheegi bheegi. This one's not a Pritam creation but based on on a song called Prithibi by the late Gautam Chatterjee (a cult Bengali rock songwriter who was the leader of a band called Mohiner Ghoraguli). An interesting arrangement that alternates between minimalist and soft rock, powerful lyrics (by Mayur) and James' inspired performance ensure Bheegi bheegi is another winner.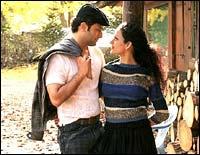 Abhijeet coos the lyrics in the next track, Lamha lamha. Although it starts off nicely, the excessive saccharine in its tune proves to be its undoing. The romantic irritant features a second time as a duet with Sunidhi Chauhan [Images]. Nothing is changed. The overbearing nature of the track still persists.

But those woes are soon forgotten with the dynamic entry of Ya Ali. This superb, high-voltage dance track introduces another new voice, Zubeen, to the playback scene. His pulsating verve jives in tandem with the high energy levels of this instantly likeable ditty.

Mujhe mat roko is a combination of Kavita Seth's husky tones and Pritam's stark melody. Slow and brimming with agony, Mujhe mat successfully conveys distress.
 
Bottomline: By and large, the soundtrack for Gangster-A Love Story is groovy, and is bound to find its place in the charts effortlessly.

Rediff Rating: