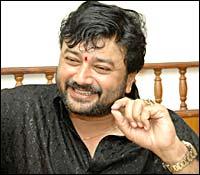 Jayaram has been acting in films for nearly 20 years, in the top bracket along with Mammootty, Mohanlal and Suresh Gopi. Unlike the others, he came from a mimicry background, where comedy was his forte. And though he has acted in several serious films, he was loved by the people of Kerala for his portrayal of simple, middle class men with a great sense of humour.
His last big hit in Malayalam was the Satyan Anthikad-directed Manassinakkare, in which Nayanthara debuted and Sheela made a comeback. The film was a super hit. But, for the last six months, Jayaram has been on a self imposed break, as he hasn't been getting good offers. He has used this time to hone his ability to play the chenda (a drum-like instrument) though, playing at various temples and festivals as well as with the country's finest chenda player, Mattannoor Sankaran Kutty.
| | |
| --- | --- |
| | More on rediff.com! |
| | |
Now, Jayaram is back, with a film releasing this week -- Madhuchandralekha, directed by Rajasenan, with whom he has had several blockbusters. It is the story of a singer called Madhu (Jayaram), his illiterate rich wife Chandramathi (Urvashi) and a third young woman, Lekha (Mamta Mohandas). The Jayaram-Urvashi combination is expected to create fireworks, as is the reputation of Mamta as that of a sizzler after her film Lanka, with Suresh Gopi.

In this interview, managed after a long wait at his residence in Chennai, Jayaram speaks about Madhuchandralekha, his love for chenda and his son Kalidas, a National Award-winner.

Is Madhuchandralekha like the earlier entertainers you acted in, along with Urvashi?

I always did family entertainers depicting the middle class, whether they were made by Satyan Anthikad, Rajasenan or anybody else. In the last two years, I tried doing films that were different, but they weren't successful.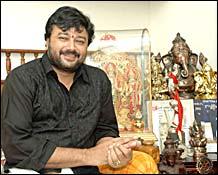 When I go to a public function, people ask me why i'm not doing light, family comedies. They like me acting in such films, which is why I decided to stick to what I am strong in. The result is Madhuchandralekha with Rajasenan. Our combination had yielded many huge hits in the past, so I believe this will also work.
Is Urvashi portraying a humorous character in the film?
She is a woman full of life and humour. I feel there is no other actress who could do justice to Chandramathi. Only she can give life to such a character. I have done several family dramas involving a husband, wife and another woman, but this one's different. I feel that is the strength of the film.
There are very few actresses who can do humour effectively, and Urvashi is one such rare artist. You have done many films together. How was it doing humorous scenes with her after a long gap?
I think Urvashi has done more movies with me than with any other actor. I don't see any other actress of today who can come anywhere near her, when it comes to humour. Not many actresses can do humour because they are more worried about looking good. On the other hand, an actress like Urvashi will do anything with her face for humour. She is not worried about glamour or looks. She was like that even when she was very young.
Have you acted with any other actress who could do comedy as effortlessly?
Shobhana used to do humour very well, as did Manju Warrier. I have done so many comedies with them. It was fun because such artistes have wonderful timing. I must say that Urvashi was the best as far as comedies go though. Many actors say they fight or dance very well, nut not all can do humour and make people laugh. That is the toughest act. If the humour misses the target, people may boo.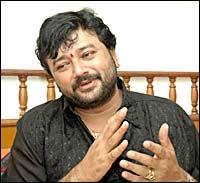 Do you think the kind of comedies being made in Malayalam today are very crass?
I feel that those who are making films should take an initiative to make good, classy movies. That is why none of those crass comedies are working at the box office. On the other hand, a classy comedy like Manassinakkare by Satyan Anthikad worked magic at the box office. That is why I say the audience in Kerala is very aware. If you give them good films, they accept them.
This trend of churning out crass comedies has been started by a group of people in Malayalam. I do not want to name them. But there is a group of writers for them, and what they do is watch English, Hindi, Tamil and Telugu DVDs, then pick up scenes from all of them. People belonging to a region have their own culture, and they like only what they are used to. The dances you see in Telugu or the bullock cart from Kannada won't work in Kerala.
Did anyone come to you with such offers?
Many did, but I preferred sitting at home to acting in such films.
Were you worried in the last six months, or were you relaxing?
I enjoyed being with my children. And I enjoyed learning an art form. I was not at all worried. After all, I had been working continuously for the last 19 years!
What made you learn the chenda?
Mattannoor Sankara Marar is the greatest player. Similarly, none can match Thirumana Kuttan Kutty in panchari melam. He has been drumming at Thrissur Pooram for the last 40 years. It had been my dream to perform with them somewhere. It is not easy to go along with them; your hands have to be really fast. With that dream in mind, I practised along with a student of Mattannoor Sankara Kutty. I used to get up at 4.30 am daily and practice. I know my neighbours must have felt terrible. Luckily, nobody complained.
Was it because you are a popular actor that they agreed to perform with you?
I don't think so. When I invited them, they agreed and said that it was, after all, their job. We performed together at a temple recently, and I am happy to say I could play with them properly.
You have yet to win a National Award, but your son Kalidas won it for Best Child Artiste in his second film. Were you filled with pride, or did you feel as if your son had beat you in your own field?
Will any father feel that way? I am very, very proud of my son's achievement. I can't express my happiness. The kind of happiness his award gave me would not be compensated by anything, not even five National Awards for me. I am sure every parent will feel that way.
Why has he not been acting since?
He is 12, and this is the age to study. Education is very important, let him concentrate on that now. Every field is very competitive today.
Photographs: Sreeram Selvaraj