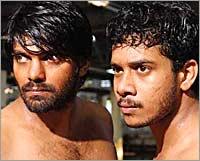 Vishnuvardhan, in Arinthum Ariyamalum, his second, showed promise of a good director who can weave in a good screenplay. In his third film Pattiyal, he proves that apart from writing a good screenplay, he can make a technically superior film.
Koshy (Arya) and Selva (Bharath), a mute, are professional killers working for Sami (Cochin Haneefa). Saroja (Padmapriya) falls for Koshy's macho ways and Sandhya (Pooja) goes week in her knees as and when she sees Selva. This newfound attention from the girls brings a change in the killers' lives. 
| | |
| --- | --- |
| | More on rediff.com! |
| | |
Sami sends Koshy and Selva to bump off Nachimuthu Gounder (Santhanabharathy), a politician based in Kovai. What they cannot preempt the job would be difficult and can even destroy their lives. Will they be successful? Watch the film to get an answer.

Arya seems just cut out for the no-nonsense killer's role, be it his looks, beard and expressions. The real scene-stealer, however, happens to be Bharath who, as a mute conveys right mood throughout. After Kadhal, this is Bharath's finest movie.  Among the heroines, Padmapriya impresses while Pooja is above average.  Cochin Haneefa and Santhanabharathy look  natural and live the roles.  The director deserves praise for extracting good performances from every one in the cast.

Nirav Shah's camera is the film's greatest strength. His lighting sets the right tone. Yuvan's pulsating background score and slick editing by Srikar Prasad add to the film's entertainment value. 

On the downside, the film is more suited for multiplex crowd and city slickers. Also, the Chennai underworld that the director portrays seems too artificial and not convincing.