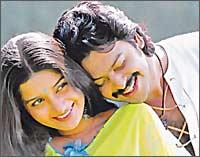 Actor Srikant and director Stanly are in the same boat. Both of them need a hit, badly. Hence the two rope in a reputed banner Vijaya Vahuni on returning to films after a decade. The result is Mercury Pookal and you expect them to give their best. Instead they come up with an inane film with innumerable loopholes.
Stanly tries to be one step ahead of Manirathinam. If Alai Payuthey spoke of two lovers' estrangement after marriage, Stanly focuses on a lovelost couple marrying each other because of parental compulsion. Eventually when the couple falls in love, the same sets of parents pose hurdles. The simple plot had all the potential to be a great film. But Stanly is no Manirathinam. Therefore, he stumbles in the narration and comes up with a pathetic ending.
Karthik (Srikant) an MCA student works part-time in a courier company and lives in Chennai. He is wooing Nisha (Samiksha) a rich, stylish girl and plans to settle down in the US. Anbu Selvi (Meera Jasmine), a tomboyish college student, the only daughter of Rathnam (Mahadevan), lives in a small town. She hates the idea of marriage. Their parents push Karthik and Anbu into marrying each other. From day one, they hate each other. Karthik vows that after completing his post graduation, he would propose to Nisha and get married. Till then this marriage is only a stop gap arrangement, he declares.
Will Karthik's marriage last? You need not watch the movie as the end is sure to disppoint you.
The introductory scene of Meera Jasmine is a straight lift from the film Sandaikozhi' (in which Meera played the lead). The way love is enkindled into the couple's heart is clichéd.  Use of dream song sequences to establish the love between the couple, seems frivolous. The director cannot be credited for possessing a misconception that the handicapped cannot have sex. 
Srikant as the romantic lover and Meera Jasmine as the tormented wife along with Delhi Ganesh and Mahadevan put in fine performances but for a sad script. Karthik Raja's music is the film's sore point. Cinematography by Ramesh Babu is passable. In short, the film is a disappointment.