Home > Movies > Reviews

Reshammiya gets spiritual for Banaras

Sukanya Verma | March 20, 2006 20:35 IST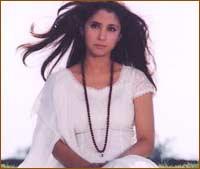 What happens when faith and spirituality collide with relationships and existentialism? Banaras - A mystic love story is said to explore this complex question.
Directed by Pankuj Parashar, the film features Urmila Matondkar, Naseerudin Shah, Raj Babbar, Dimple Kapadia and Ashmit Patel.


Agreed, the subject, setting and cast are exciting. But what is even more interesting is Parashar's choice of a mainstream music director like Himesh Reshammiya for the soundtrack. To his credit, the Aashiq Banaya singer-composer does forego his chartbuster image and treads a new track.
Urmila, back with Banaras
| | |
| --- | --- |
| | More on rediff.com! |
| | |
The album opens with Reshammiya in a mellow, almost unrecognisable self, gently crooning to
Kitna Pyaar Karte Hain
. Although his voice doesn't suit the personality of the song, his attempted sincerity meets with half-hearted approval. The loveliness of the tune does come into its own during Alka Yagnik's version of the same though.
Ishq Mein Dilko is another slow paced, romance-filled melody. But, for all its starry-eyed charm, the song is not nearly addictive.
Holi may be over and done with, but the colours refuse to die down in Rang Dalo. Vibrancy booms in the voices of Shreya Ghosal and Sonu Nigam in this standard Holi number replete with burdensome beats and a boisterous chorus. Hindi film songs adhere to a tried and tested format for situational music. It's time someone broke the rules and created something unpredictable.
Pranab Kumar's classical recital of the popular thumri,
Bajooband Khul Khul Jaaye
is stimulating beyond words. It has previously been performed by the likes of Lata Mangeskar and Jagjit Singh to mesmerising effect.
Up next, Ghosal takes a safe route for
Purab Se
. Her rendition is delicate enough, but the song would have worked better if she had provided it some drama.
The USP of
Yeh Shaan Hai Banaras Ki
is Sivamani's scintillating play of drums. Sanjeev Abhyankar's colourful and enlightening introduction of the city with many names (Kashi, Varanasi) goes in perfect tandem with the inspiring beats.
Although Reshammiya gets brownie points for trying to be different, he fails to capture the sacred rush of Banaras' air or the enigmatic profundity of spiritualism.
Want to see this movie? Check out Rediff Movie Tickets!


What do you think about the story?








Read what others have to say:





Number of User Comments: 2








Sub: Banaras Music

Yep, its a wonderful album. Prob the city inspires the best - WATER (By ARRahman) and BANARAS, both based in same city, are both brilliant ...


Posted by Deepak Jeswal









Sub: music review of Banaras

Its a beautuful album in a very very long time. All the 6 songs in the album are different and provide such melodous mood. Hats ...


Posted by vivienna






Disclaimer