Home > Movies > Southern Spice

AVM studio: 60 years and counting

A Ganesh Nadar | March 20, 2006 18:49 IST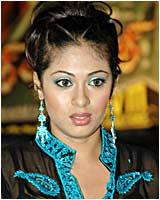 On March 14, AVM launched the music of its latest film, Thirupathi.
The hero Ajit came with his pretty wife Shalini. The heroine, Sada, was also present. Her first movie was Jeyam in Tamil, and she was also the heroine of the successful Anniyan. Peraarasu, the director, was also around. His latest movies, Thirupachhi and Sivakasi, have both been big hits.
The producer AVM Saravanan moved with practiced ease among the crowd. There were umbrellas with movie banners all around the venue, being rotated by very sad-looking men. Music director Bharatwaj looked confident that the songs would do well.
AVM studio in Chennai is in its 60th year. Started in 1946 in Karaikudi, Devakotta it soon moved to Chennai. It was founded by movie mogul AV Meippa Chettiar and occupies 25 acres of prime land in the heart of the city in Vadapalani.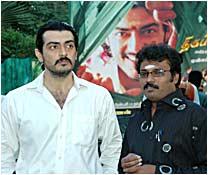 Meippa Chettiar was an ardent devotee of Lord Muruga, the second son of Lord Shiva. This is why all his four sons are named after the God -- Murugan, Kumaran, Saravanan and Balasubramaniam. The company has made 160 movies so far. Shivaji Ganesan's first film, Parasakthi, was produced by it. Rajnikant's next, Shivaji, is also being produced here. As many as 15 films can be shot here at the same time, as can a similar number of TV serials.
The first movie released by AVM -- the oldest operative studio in Chennai today -- was Ali Arjunan, says R Gowrikumar, who is a manager here and has been with the company for 32 years. 25 years ago, they used to put up their own sets as well as sets for other producers. Now, they just rent out the space and producers put up their own sets. When you are putting up a set or dismantling it, the rent is half of what you pay for shooting time or 'Call sheet time'.
As you walk around the huge studio, you can see a rich man's house, a police station, an office, a street, a garden, court, bus stop, temple, train compartment, hospital, auto workshop, AC floors for indoor shooting, recording theatre, projection theatre and theatre where you can watch movies. Producers, obviously, have a lot of choices.
AVM Saravanan says, "We make good movies and leave the rest to the audience." It explains how they have managed to do it for 60 years. AV Meippa Chettiar passed away in 1979. His legacy continues.


What do you think about the story?








Read what others have to say:





Number of User Comments: 1








Sub: AVM's 60 years journey

Dear Sir The write up on AVM Studio's 60 years journey is very intersting and informative. However, I think that Shri Sivaji Ganesan's first movie ...


Posted by R.Soundararajan






Disclaimer