Advertisement
March 20, 2006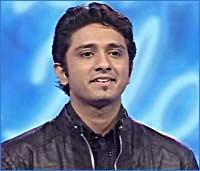 A few days ago, Sony's Indian Idol [Images] 2 saw a first.
Judges Anu Malik [Images], Sonu Nigam [Images] and Farah Khan [Images] staged a walkout when Mumbai contestant Amey Date was voted out by the audience.
Crowds gathered around the Sony studio in Andheri, north Mumbai, and protested against the elimination.
When I met the 26-year-old contestant at his one room-kitchen rented house in Dadar, north-central Mumbai, I was surprised to see a very simple man, untouched by fame and success.
Over to Amey:
Tell us what is was like to be on Indian Idol 2.
I still remember the day when I was standing among a crowd of about 3,000 people (who applied) and wondering whether I had a chance.
When I sang in front of Sonu Nigam, he told me that I had a good range and a nice voice. But (he said that) I did not have patience. If I had that, (he said), I would be in the top three.
It was a great feeling to stay on board for four months. There was pressure, as there were so many talented singers around. But the atmosphere was good. We were like a family.
I was especially close to Ravi Tripathi and Panna Gill. Ravi and me are from the Suresh Wadekar Institution (in Santa Cruz, north Mumbai). We were roommates there.
One of the best incidents in my life was when we performed at Inorbit Mall, Malad (north Mumbai) and I saw the crowd going mad! They were so happy to see us! Kids came to me and asked for autographs. They wanted to take pictures with me.
Who was your favourite judge among the three?
All of them liked my singing. Farahji told me I am complete package -- I look good, perform well and talk to people nicely.
Sonuji always commented my singing.
Anuji often gave me tips backstage. He would tell me not to lose my focus and to experiment.
All three judges showed me the right direction. If it weren't for them, I don't think I would have reached the final four.
But Sonuji is my favorite. I'm aiming for whatever he has achieved in life.
So what exactly happened on the day you were eliminated?
When it was declared that I was eliminated, I went blank for two minutes. I was not in a position to think. Then all of a sudden, I saw the judges walking out. The crowd at the studio also left, as they were very unhappy with the decision. I was shocked to see all that, as it had never happened before.
I was wondering what to do next, when the judges returned and stated that the decision was not right. They said the Amey ouster was not good for the show, and they wanted a redo for the round.
But a spectator asked whether the contest would be between the last two -- Anuj Sharma and me -- or all four contestants. That's when I thought: 'This is not done; this is not in the format of Indian Idol. So many left before me. But there was never a rematch.' So I told them that I did not want a rematch as it would be unfair to Anuj.
But after this, I've discovered how much people loved me. They expected me to be the next Indian Idol.
What was the judges' reaction?
I didn't get a chance to meet the judges after the shoot. Anuji came and hugged me. He said that according to him, I was the Indian Idol because even after I got a chance for a rematch, I did not take it. Farahji and Sonuji were very upset but they were happy about the way I reacted.
When did you leave the Indian Idol sets?
I had to leave the same day as that was the format.
Do you think the act was staged? How did the media reach the studio so quickly?
I don't know. But the media is around for every episode. Maybe because of the chaos that followed, more media persons joined them.
Were you aware before the episode was aired that you would be out of the show?
No, not at all. We are never told in advance that we are out. We learn that with the audience. If we are told in advance, they won't get our spontaneous reaction.
What was going in your mind when the results were declared?
All my dreams crashed. But I had prepared myself for it. It was not a big shock for me. Because of the voting system, I knew that I might be eliminated someday. So I always went to the sets prepared.
What do you think went wrong?
There was nothing lacking in my performance. I gave my 100 per cent. I don't thing anything went wrong from my end. But I don't think that the audience was wrong either.
We were four contestants, and someone had to go.
There are 'Vote for Amey' banners all over Mumbai. How did you feel when you saw them for the first time?
That was my friend Nilesh Divekar's idea. My other friends from Dadar (where I stay) and my relatives supported it. They contributed money and made those banners. When I saw them for the first time, I was very happy!
They also wore T-shirts with 'Vote for Amey' printed on it, and roamed on the streets at night. After what they did for me, I regret not winning.
Does this defeat affect you?
No. But I feel bad because I could not fulfill the expectations of so many people.
But even though I lost, it feels great to be home. Nothing has changed at home, other than some furniture. But when I (go out of my home), people want to touch me and talk to me.
What was your mother's reaction?
She was very upset and angry. But I explained that this was a game and someone had to leave at some point.
My father was also sad.
My parents separated about 16 years ago. My mother bore a lot of hardships to bring up my sister, Ayesha, and me. She was a chorus singer for the films.
When I turned 20, I told her to take a break. I started tuition, sang in a chorus and did stage shows. I was never interested in nine to five jobs, even after my graduation.
My friends helped me a lot. We stayed in a rented house. My sister and I learnt singing at Suresh Wadekar Institution. Two years after I joined, the institute sponsored me. And for the last 14 years, I have been studying free of cost.
At the Indian Idol, I have spent all my savings. But my friends and my brother-in-law help me financially. In the past, I have sung jingles, and for Marathi movies.
I went to many Bollywood music directors and have sung before them. But nothing clicked. Now that people know me, I think I will get good offers.
Your future plans?
No plans yet. Sony will make an album with the final five contestants. And I have some offers for stage show.