Advertisement
March 17, 2006 17:44 IST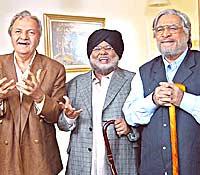 Karan Razdan's Umar comes as no surprise. Well, what can you expect from the director of Hawas and Girlfriend?
It was supposed to be a comeback film for Kader Khan. Along with Prem Chopra and Satish Kaushik, Khan made the publicity pictures look promising.
But in his attempt to change tracks, Razdan has wasted the veterans. I wonder what made them accept the film in the first place.
| | |
| --- | --- |
| | More on rediff.com! |
| | |
The story is about old age. Set abroad, the families of Prem Chopra and Satish Kaushik illtreat them. Chopra sums it up by saying, 'Never part with your money to your children before your death. Life becomes hell.'

If the director had retained that, and not strayed into a romantic angle involving Jimmy Shergil and Shenaz Treasurywala, he may have made a good film.

The trio taking walks in public gardens, passing time at bus stops with walking sticks in their hands make some good scenes. But those scenes are repeated too many times.

Shenaz, who made a good debut in Ken Ghosh's Ishq Vishk, is terrible here.

Similarly, Jimmy Shergil, who had dished out a good performance in Yahaan [Images], is below average here. His role of a university student who visits old age homes as part of a compulsory community service is half-baked. The only scene that sends a shiver down your spine is the one showing the old age home with all its occupants. The lonely lives of the elderly really hit you.

Shakti Kapoor and Dalip Tahil have blink-and-miss roles.

Page 3's music composer Shamir Tandon is one of the few positives of the film. Jagjit Singh's Khumari chaddh ke utar gayi is relaxing. Sadly, it is quite out of place in the story.

In conclusion, Umar is a terrible excuse for a film.

Are movies your mania? Wanna discuss great films with other movie maniacs? Join the Favourite Movie Dialogues Discussion Group