Advertisement
March 16, 2006 16:39 IST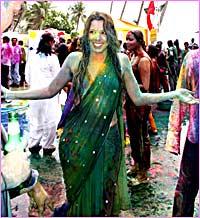 Zoom channel's Holi party on Wednesday was an event to remember. For once, television stars looked unrecognisable!
While the glitterati of the television world were dancing to Indi-pop, Holi songs, and bhangra and getting drenched in an artificial shower inside the Sun 'n' Sand Hotel at Juhu in suburban Mumbai, the Mumbai janta was having a blast by the Juhu beach nearby.
Drenched in Holi colours, Zoom anchor Pooja Bedi [Images] looked hot, and she was definitely the star of the afternoon. She danced throughout, and stopped only when her shoe broke.
"I can't remember how may colours I have changed through the day," Bedi said, struggling to remove colour from her face in the restroom. Her white sari was a mix of green and blue.
Zeher [Images] actress Udita Goswami [Images] did not mingle much with the crowd. Instead, she got herself a head massage, while boyfriend and Zeher director Mohit Suri looked on. "It's a lot of fun here, but I prefer standing here rather than playing," Suri said.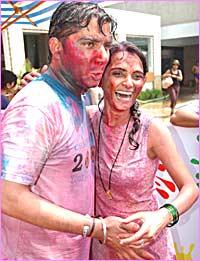 Star couple Hiten Tejwani and Gauri Pradhan [Images] seemed to be enjoying the party, and Sai Paranjpe and Shakti Anand did not leave the dancefloor at all. Sai's mother also accompanied the duo. Also spotted were Varun Badula with wife Rajeshwari Sachdev, Jayati Bhatia, Mini Mathur and Rahil Azam.
The surprise guest of the evening was Preetii Jaiin, who made her first public appearance since the Madhur Bhandarkar controversy broke out.
The party was a grand affair -- from sponsored head massages to bhaang, food, and drinks. One could see firang women offering bhaang via pichkaari to the guests.
Television hunks did not lose the chance to strut their stuff. Making sure their biceps are visible, most of them wore vests. 
But after a point, it was difficult to recognise people amidst the colour, and without their usual make up masks. Most of the women looked tired, in spite of forced smiles.
I could see some people had climbed up on the hotel wall trying to catch a glimpse of the celebrities inside. I guess the grass is always greener on the other side, no matter where you are.
Photographs: Pradeep Bandekar