Advertisement
March 10, 2006 16:23 IST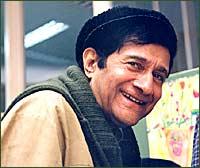 The inimitable Dev Anand [Images] was quite flustered when Pritish Nandy announced a movie, tentatively called Rahgir or Rehguzar, which was a supposed rehash of the 1965 Dev Anand classic, Guide.
The remake was to be directed by Rituparno Ghosh.
But, as Dev Sa'ab tells Subhash K Jha, that chapter is closed, and the flamboyant veteran is going full steam ahead with his new projects, which includes his autobiography. 
| | |
| --- | --- |
| | More on rediff.com! |
| | |
It seems you are upset about Guide being re-made?
But that's cleared now. Rituparno Ghosh has clearly stated he's not remaking Guide. So the matter is closed. No one can remake Guide. Guide is R K Narayan's Guide, Guide is Dev Anand's and Vijay Anand's Guide. You are free to get inspired from any source -- that's the creative mind's prerogative -- but you can't claim to remake Guide. 
I was a little touchy about it when I heard about it -- because our film touched the spiritual heights which weren't there even in the novel. The book doesn't have that spiritual feel of our film.
Pritish Nandy is a good friend of mine. I fired off a letter asking why he was doing Guide. They are such intelligent people. They don't need to fall back on remakes.
My reaction was quite natural. I remember Rituparno had come to me in Delhi when I had won the Dadasaheb Phalke Award asking me for the remake rights of Guide.
I had advised him against remaking Guide.
Rituparno thinks Guide is an inviolable classic.
He is a wonderful man. I admire him for what he says. I feel flattered when people credit so much sanctity to Guide. I hold this film -- and many of my old films -- close to my heart. Why should anyone have the right to borrow my  films?
Would you say Guide was the most important film of your career?
That would be unfair to some of my other films. You know my career graph. In all the films that my company Navketan has made, I have always experimented with new ideas, walked the road of originality even at the risk of failure.
Every film I have made is different, including my latest Mr Prime Minister.
Thoughts flow through my head constantly. Suddenly a thought clicks, and I'm onto my next film, even at the risk of my reputation, my career and my money.
Original ideas are much greater fun. Every day you come across new ideas and new situations in the newspapers. There are so many subjects to choose from. Then why go back to past ideas? The latest trend is to remake old films.
What do you think of that trend?
It's okay. Let them do what they like. But who knows? Those were different times. This is a different era. Why go to remakes instead of your inner resources? I'm asked many times why I don't remake my Guide or Hare Rama Hare Krishna.
I say, 'Not again, please!' Am I intellectually so bankrupt that I need to go back to my past? If I did I'd cease to be a creative artiste.
You have never looked back.
Not so far. Providence and my willpower have helped me to always stride forward. Is there anybody else in the world actively making motion pictures at my age? 
For the first time in my life I'm looking back. I've just completed my autobiography, which I have given to my publishers. I'm soon going to make it public. It spans my 62 working years in the motion picture business.
I could have gone on and on writing. I love the process of creating. I have got an international publisher and they are going through my manuscript right now. I have written my thoughts, in my style.
Was it difficult going back?
You are a writer, you know what a pleasure it is to re-create events in your life. As I went into my life I often realised, 'My god, I never knew this had happened!'
The mind is such a huge ocean of memories and information. The mind is capable of climbing as high as any mountain and going as a deep as any ocean.
Do you like the films being made these days?
Different filmmakers have different temperaments and they are working accordingly.
Today's filmmakers are very lucky because they have the works of the great masters to fall back on. In our times we knew only the relatively recent work of New Theatres, Bombay Talkies [Get Quote]. We fell back on our own experiences to create movies. Which was good, really.
Today's motion picture makers are blessed. They are exposed to satellite television, the Internet... they can experience the best of world cinema at international film festivals.
That's also stopping our filmmakers from being original.
That's my point. Images from international films, television channels and the Internet stay in their minds. We didn't have exposure to such things...
Every writer has the prerogative to be original. The minute he or she stops being original it's time to question the purpose of creativity.
I personally feel it's a great challenge to find a new idea and venture into the unknown. If the idea works it stays alive for at least 50 years.
Where do you get the energy to go on?
I don't know! I still feel I have a lot of energy. I feel I have done nothing yet, believe me!
I've finished my book and I was supposed to go to Nepal for a film. But there's political strife in Nepal. Since I can't sit idle, I have gravitated to another script for a film which I'll start soon.
And what would that be?
It's a murder mystery. Once I finish the script I'll start casting. But yes, it will feature me.
Netflix delivers DVD rentals -- from $ 9.99 a month. No Late Fees, Free Shipping. Two week FREE Trial.