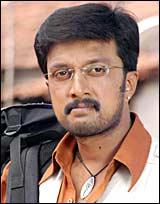 With My Autograph, Sudeep, one of the Kannada film industry's most talented actors, has joined the small group of actors who have turned successful directors.
It is a remake of Cheran's highly successful Tamil film, Autograph. "I would credit half the success of the film to Cheran, who wrote such a wonderful script and managed to get such an amazing music from Bharadwaj," says Sudeep. "Yes, I did make some changes here and there and strengthened the film in the visuals department, but these were just ornamental additions. The strength of the film is in its extraordinary script."
Sudeep went through a bad patch before My Autograph happened, with two of his films failing miserably at the box office. Both were remakes, incidentally, but action-oriented. Trade pundits were predicting a similar fate for My Autograph too, as the Telugu version was a box office disaster. But Sudeep made the film with a lot of passion, and put his career at stake by not signing any new projects. His perseverance has paid off.
"I would thank the ardent Kannada film fans for supporting me. I think there is a large percentage of people who want to see good films. They have been responsible for a revival of interest in making quality films. I think many of the people who have liked the film have also liked my sincerity and commitment in making it. I would like to give full credit to my team of artists and technicians, who backed me to the hilt," adds Sudeep.
After an initial struggling phase as an actor, Sudeep struck it big with Huchcha. Then came a brief phase of action films, some of which ran well, some of which were duds. But one thing was clear: Sudeep the actor had arrived. College-going students were the target audience for many of his films during this period.
Along the way, Sudeep felt he had to change his image. He did that by producing Swathi Muththu, a remake of the Telugu hit Swati Muthyam, featuring Kamal Hassan and directed by K Vishwanath. Swathi Muththu clearly proved he was capable of taking risks and was extremely talented. Though it was considered a risky attempt for an actor to act in the role immortalized by Kamal Hassan, it is to Sudeep's credit that scored full marks for his attempt.
Then came a phase where he began acting in commercial potboilers that were partly successful at the box office. His producers were happy and the directors were able to get back their investments. Then came the lean phase. Thankfully, Sudeep didn't fall into an 'image trap' and chose a variety of subjects.
He is now back in the reckoning with My Autograph, which is receiving a good response even when pre-examination fever is keeping a large section of the family audience indoors. His next film, Tirupati', directed by Shivamani, will feature him as a dynamic police officer.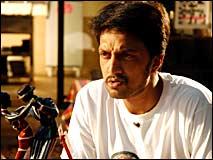 "It is not an action film to the hilt," he says. "Yes, there will be action, but I think it is a performance-oriented role. I don't say I have done a lot of homework for it, but wearing a police uniform would excite any actor. Technically, the film will be as good as any other good action thriller. I am playing the role of police officer for the first time and we are planning to release the film in May. Three songs have still to be shot abroad."
The actor-director will also start shooting for his next film Hubballi, directed by Om Prakash Rao, soon. Considering it is an action film, will he get caught in the trap once more?
"Is it wrong to do films that have great potential at the box office? I am not contradicting myself doing a film like Hubballi even after making a film like My Autograph. You should know that I have a family to support. I cannot always work to get some critical satisfaction and talk of passion even when some of my fans are clamouring to see me in action films. I don't regret doing films like Tirupati' and Hubballi' which may strengthen my career," he says.