Advertisement
March 07, 2006 19:58 IST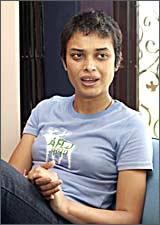 Reema Kagti is glad her parents forced her to pursue graduation. Had they not insisted upon it, she may not have attained the recognition she enjoys today in the Hindi film industry.
This 33-year old Assamese has had the distinction of having worked with some of the biggest names in the industry -- from Ashutosh Gowarikar and Mira Nair, to Farhan Akhtar. She has carved her image as an ace behind the camera, and is all set to direct Akhtar's next venture, Honeymoon Travels Pvt Ltd.
The film is a take on love, relationships and marriage. It is about a package honeymoon tour. There are many short stories that go along simultaneously, and it ends with a message that life is hard but honest personal relationship can offer some solace in a difficult world.
| | |
| --- | --- |
| | More on rediff.com! |
| | |
There are 14 characters playing 6 couples: Boman Irani and Shabana Azmi [Images], Abhay Deol and Minisha Lamba, Amisha Patel [Images] and Karan Khanna, Sandhya Mridul and Vikram Chatwal, and Kay Kay and Raima Sen [Images]. Reema is searching for a girl to star opposite Ranvir Shourie as the sixth couple. Arjun Rampal [Images] is also set to put in a special appearance. She wanted Farhan to act in the film too, but he was busy directing Don and was thus replaced by Abhay Deol. "I have lost him as an actor but I have him as a producer," she says.

A mass communication graduate from Sophia College, Mumbai, Reema has been a part of the industry since the past 7-8 years. Films always fascinated her. She was pretty clear from the beginning that she wanted to get into this profession.

Her family is not connected to films at all, despite the fact that her grandfather once part-produced a film. "I never met my grandfather, who died before I was born. Since then, my family has had no association with films, which is probably why my father was very concerned when I told him I wanted to do films," says Reema.

She tried to get into Film and Television Institute of India (FTII), but was rejected thrice. Determined to get into the movies, Reema decided to do her internship (part of her course in college) under a filmmaker instead of a television production house. Through her contacts, she met Rajat Kapoor [Images], who said he would be happy to take her on. But he had one condition -- that she would work with him not just for a month, but do the whole film.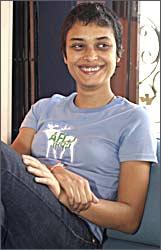 That is how Reema landed her first assignment -- Private Detectives. There has been no looking back.
The turning point in her career came with Ashutosh Gowarikar's Lagaan [Images]. "Working on those sets was fun. First assistant director Apurva Lakhia and I had worked together earlier on Bombay Boys. The best thing was there were so many different people around. I hadn't done a commercial Bollywood movie before. There were noted Bollywood folk and some who hadn't done something like this before. Then there were lots of British actors. There were all kinds of people who wanted a free holiday in India. People with varying talents."
Reema never underwent a course in movie direction. She learnt by watching other directors at work. She says, "I worked in an American system where assistant directors are not necessarily involved in the creative aspects of filmmaking. It is more about executing the director's vision. But you can learn a lot from that too. It depends on whether you pick up something or not. I would say I learned a lot from my DVD player just by watching all kinds of films."
Reema knew Farhan before they began working on Dil Chahta Hai [Images]. She met him through Zoya Akhtar (Farhan's sister), with whom she had worked together on Bombay Boys. "For an assistant director like me, Farhan is superb to work with. He is really calm and cool. He does everything you need him to do. He is very open to doing anything that might help him. He is the smartest person I have worked with.
"As a producer, he is also supportive and non-interfering at the same time. And he is not at all a dictator on sets as people think he is. Every director has to be on some level; after all it is his vision. I am yet to meet a director who is not like that. It goes with the territory you are working in," she adds.
Reema wrote the script of her new movie a year and a half ago, at around the same time Lakshya was being released. Farhan and Ritesh Sidhwani decided they should look at her script, and she is glad they gave her a way out. "I did want to write something, a feel-good kind of movie. Honestly, I had written a script before this, and it was a darker project. I had also done semi-casting, but I had a hell of a time getting it made. So I consciously wanted to write something lighter."
Reema is nervous about Honeymoon Travels Pvt Ltd. But then, she has always been like this. "I think I would be worried if I weren't nervous," she jokes. Her project starts on March 9 and the movie will be shot primarily in Goa [Images]. The relatively low-budget film, keeping in mind the number of actors, may be released post July.
Is being a female director an obstacle or bonus in any way? Reema doesn't think so. At least it never mattered to her.
Photographs: Jewella C Miranda
Netflix delivers DVD rentals -- from $ 9.99 a month. No Late Fees, Free Shipping. Two week FREE Trial.