Home > Movies > Reviews

Shaadi Se Pehle: Catchy music

Sukanya Verma | March 01, 2006 14:33 IST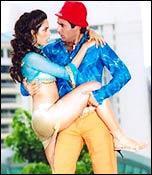 He loves her. He loves her not.

Akshaye Khanna oscillates between Ayesha Takia and Mallika Sherawat in the romantic comedy of errors, Shaadi Se Pehle. Directed by Satish Kaushik, under Subhash Ghai's banner Mukta Arts Entertainment, the fun flick also features Aftab Shivdasani and Suniel Shetty.
Mallika, shaadi se pheli!
Himesh Reshammiya is in charge of the music. Interestingly, the composer-singer, who recently won a Filmfare award for Best Male Playback singer (Aashiq Banaya Aapne), doesn't sing a single line in Shaadi Se Pehle. His absence from the crooning department doesn't hamper his compositions though.


| | |
| --- | --- |
| | More on rediff.com! |
| | |
Mundiye bears a fleeting resemblance to Just Love Me of No Entry. But that's not the problem. Perhaps a little more spice and energy from Sunidhi Chauhan would have made the ditty peppier on the ears. Even its technically dabbled remix by DJ Suketu doesn't quite impress.
Caught between Mallika and Ayesha
You may find traces of Mujhse Shaadi Karoge's Tu Aaja Soniye and Sukhbir's Gal Ban Gayee in Ankhiyon Se Gal Kar Gayi. Barring those unwanted reminders of blasts from the past, this Punjabi pop song is sufficiently rocking. The second version also gets it right.

High on the spectacular success of Rang De Basanti's winner title track, the zesty voice of Daler Mehendi oozes heart-rending passion in Tutitya Ve. It's the Daler touch that makes all the difference to this otherwise average melody. More power to him! Suketu's remix, however, messes with the emotional quotient, with faltering results.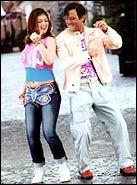 Sukhwinder Singh and Alka Yagnik flirtatiously ponder the thundering and lightening after effects of love in Bijuriya. Reshammiya's colourful, rustic arrangement -- despite the presence of Hinglish lyrics like 'I think of you all the time Banwariya' -- makes for a fetching, foot-tapping score. Ditto for DJ Akbar Sami's bubbly mix.  

Fickle in its rhythm, uninspiring in tune and humdrum in its lyrics, Tere Liye doesn't live up to the vivacious mood of the soundtrack. The remix springs an incredible surprise though. Sami's magic wand turns the song from hopelessly dreary to pleasantly breezy. In Sache Aashiq,

Sukhwinder Singh's trademark verve is for all to hear as he bounces infectiously in Yagnik's equally charming company over the upbeat bhangra number. With so much spirit in its element, it is no surprise that Reshammiya ignores the need to include a remix.

As is the case with most of Reshammiya's popular music, the soundtrack of Shaadi Se Pehle too is lively and catchy.

Netflix delivers DVD rentals -- from $ 9.99 a month. No Late Fees, Free Shipping. Two week FREE Trial.



Want to see this movie? Check out Rediff Movie Tickets!



What do you think about the story?








Read what others have to say:





Number of User Comments: 3








Sub: Sukanya ur pathetic lol u liked this music ?( may be coz of Gha)

Hi Sukanya , many adviced you to quit reviewing music because you did not like the music of Rang De Basanti and Humko Deewana Kar ...


Posted by Sami









Sub: WRONG page linked

On the home page for movies, there is a link which says Aishwarya's invited to lunch with Bush but that link actually opens "Shaadi se ...


Posted by M









Sub: hi to Raja sen , sukanya verma

I have been reading ur reviews abt hindi movies and albums quite along while, my question is why cant u write reviews on Tamil film ...


Posted by A.Giridhar






Disclaimer