Home > Movies > Reviews

Krrish: No one can dance like Hrithik

Jahnavi Sheriff | June 27, 2006 14:45 IST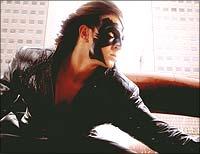 Krrish is an awesome movie!
In this Rakesh Roshan film, Hrithik Roshan looks handsome, graceful and pure. If you have seen the film, you must have noticed how he looks so decently dressed -- unlike others actors who tend to dress up (or down) too much. Hrithik looked really cool!
He was very casual and being himself.
Priyanka Chopra looked innocent and her clothes looked funky and different. She obviously could not cope up with Hrithik's dancing talent, but then, who can dance like Hrithik?
In fact, his dancing and the stunts make Krrish the exciting movie it is. I thought Rekha, too did a fine job.
It seems the way the film was directed, everything just fell in place.
If I must find a negative, I thought Rekha's make-up did not make her look convincingly old. On the other hand, Hrithik as an old man looked so realistic!
The story appeared to have been copied from the Superman and Spiderman series. Even some scenes seemed to have been copied from the film Spider-man, especially the scene in which Hrithik is climbing the mountain when Priyanka falls down from the rock-face.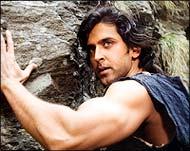 Also, was the film really shot in Singapore? Somehow one did not get that feeling since we did not see anything specific to Singapore.
Rajesh Roshan's music was sweet. But I feel the visuals accompanying the music were more awesome, especially in the song Dil lagiya.
Hrithik's performance was spectacular. I wish Hrithik would start a dancer's academy like Shiamak Davar, so his fans can learn these steps from him!
The best part about the movie was Hrithik. I just can't wait for the sequel.
Jahnavi Sheriff, 13, can't get enough of Krrish.
Want to see this movie? Check out Rediff Movie Tickets!



What do you think about the story?








Read what others have to say:





Number of User Comments: 26








Sub: Hritik is the best..........

No doubt hritik is the best dancer and actor at present in the film industry...no one come closer to him in talent... Krrish is anther ...


Posted by Salma









Sub: go east or west hrithik is the best

i watched krrish 2 times in one week inspite of a very busy life,i m a computer engg and dont get much of a time ...


Posted by sumit sharma









Sub: compliment

hrithik roshan has once again proved himself as an actor. well done mr.hrithik you were terrific.mindblowing stunt ,acting and offcourse dance. hey man i watch ...


Posted by abhi









Sub: Its entirely different

Yes i saw the movie. I liked the movie very much becoz after a long time i got a chance to see a different movie.


Posted by Pavan









Sub: kkrish rocks

My 2&1/2 yr old daughter was clapping watching kkrish in action,i simply loved the movie,its a sensation even here in Toronto.Keep it up Hritik!!!!


Posted by Alifya






Disclaimer