Advertisement
June 27, 2006 15:18 IST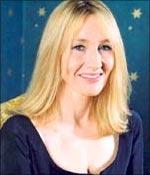 Two more deaths.
If you are one of the millions of readers awaiting the seventh and final book of the Harry Potter [Images] series, these words will seem ominous.
And in an interview broadcast on Britain's Channel 4, author J K Rowling [Images] has admitted to more than just killing off two characters who she 'did not intend to die' in the final instalment of the series which has made her richer than the English Queen and rewritten the history of children's fiction.
She has said she wrote the final chapter a long time ago, and that it is hidden away, 'although it's now changed very slightly.'
And if you are waiting for confirmation of the Harry Potter fan's deepest fear -- that the boy wizard will die to rid the world of the evil Lord Voldemort -- you will have to draw your own conclusion.
All Rowling said was, 'I've never been tempted to kill him (Harry) off before the end of Book 7, because I always planned seven books, and that's where I want to go. I can completely understand, however, the mentality of an author who thinks, "Well, I'm going to kill them off because that means there can be no non-author-written sequels."'
But Potter fans need not break their wands in despair yet, as Rowling has also said, 'One character got a reprieve.'