Home > Movies > Southern Spice

More controversy for Naan Kadavul

Shobha Warrier | June 23, 2006 19:31 IST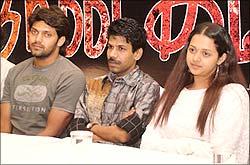 When Bala made Sethu, there were no producers to put money into the film, no distributors and no major theatres to show it. The lead actor was one who dubbed for other Tamil actors and played second fiddle to Malayalam superstars. A month after the release of Sethu in a suburban theatre, the scenario changed. Bala (centre) the director became hot property, as did the actor, Vikram.
With his next film, Nanda, he gave Surya a new lease of life. In Pithamahan, he gave no dialogues to Vikram and all dialogues to Surya. Both excelled in their respective roles, with Vikram going on to win a National Award.
Now, after a long gap, Bala has announced Naan Kadavul (I am God) with Ajith in the lead and Bhavana (right, in the pic) as heroine. The film was to be shot at Kasi and Varanasi, but nothing happened after the announcement. Unable to wait any longer, Ajith withdrew from the film.
It was then rumoured that Narain of Chithiram Pesuthadi would do the role, but producers wanted a more saleable name, and that of Arya (left, in the pic) cropped up. The hottest actor in Tamil after the success of Pattiyal, Arya was eager to grab the film but had already given dates to Saran. He wanted to drop out of Saran's film, but Saran was not ready to let him go that easily. Finally, Arya agreed to finish the film and then move on to Naan Kadavul. Bala announced the film with great fanfare with Arya and Bhavana in the lead and Ilayaraja scoring music.
What happened next has shocked everyone, not just in the industry but outside too. It is rumoured that Ajith was called to a hotel by Bala, some producers and distributors. They forcibly took back the advance and asked him to pay interest too. What everyone found unbelievable was that Ajith was an actor who used to help producers monetarily if they were in financial trouble. His fans didn't take it lightly; they demonstrated against Bala and hurled insults openly. Ajith refused to make any comment, but some actors want the Nadigar Sangham to take action against such arm-twisting. Their argument is -- if it can happen to a top actor like Ajith who has lakhs of fans, what about the others?
Last heard, the actors are going ahead with a one-day token strike in support of Ajith. Naan Kadavul has only been announced, but the film is already making news for the wrong reasons.


What do you think about the story?








Read what others have to say:





Number of User Comments: 14








Sub: 50-50

These topics nothing to do r nor intresting, its purely unwanted aspects regarding related with movies. So many browser dont come across in these sites ...


Posted by Vijay









Sub: Just listen!!!!!!!!!!!!!!!!!!!!!!!!!!

hello friends, It is not a waste topic. if u don\\\'t like,u can tell i didn\\\'t intrested in these topic.how u can told that it ...


Posted by priya









Sub: Dont waste time

Hello, Dont waste time writing such articles which is of no use. Also, at the same time, time of lakhs of guys reading such articles ...


Posted by kiran









Sub: history repeats!

And now we all know the real side of director Bala, also what could have happened between vikram & his producer of PITHAMAGAN!(the role bala ...


Posted by senthilkumar.m









Sub: Absurd...

Who cares on topics like these. it is a waste fo time to discuss..


Posted by S.Balaji






Disclaimer