Home > Movies > Bollywood News

A piece of Mira Nair's heart

Arthur J Pais | June 13, 2006 18:18 IST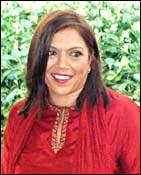 Mira Nair's The Namesake, based on Jhumpa Lahiri's Pulitzer Prize-winning novel of the same name, will open the Indo-American Arts Council's 6th IAAC Film Festival in New York on Nov 1. The premiere will be held at Ziegfeld, the finest theatre in New York, with over 1200 seats.
Two days later, Fox Searchlight will roll out the film starring Kal Penn, Tabu, Irfan Khan, Jacinda Barrett and Zuleikha Robinson in select cities across the country. The event is expected to draw the film's principal players, its director and Jhumpa Lahiri. Salman Rushdie, a strong admirer of IAAC, has also consented to join the event. Last year, the IAAC festival was attended by over 5,000 movie fans. It has, over the years, showcased eclectic films by established filmmakers such as Mira Nair and emerging ones such as Shonali Bose (Amu).
'Namesake is very uncannily my story!'
"This film is a dill ka tukra, a piece of my heart," said Nair in a statement, "a seesaw of two great cities of the world -- New York and Kolkata." It is the first time she has shot extensively in Kolkata.
| | |
| --- | --- |
| | More on rediff.com! |
| | |
A national bestseller for over six weeks, The Namesake is Lahiri's first novel and second published book. It encompasses signature themes in London-born and America-raised Lahiri's short stories -- the clash of cultures, troubled ties between generations and the emotional cost that assimilating efforts take.
It follows the arranged wedding of Ashoke (Irfan Khan) and Ashima Ganguli (Tabu) who settle in Cambridge, Massachusetts, where Ashoke is slowly adapting to a new culture. His wife pines for home though. When their son Gogol (Kal Penn) is born, the task of naming him adds to the domestic conflict and drama. Much of the novel focuses on Gogol as he stumbles along the first-generation path, confronting conflicting loyalties and experiencing love affairs that shake his soul from time to time.
One of the key characters in the film, Moushumi Mazoomdar, is played by Zuleikha Robison, the British actress raised in the Far East, Malaysia and Thailand who has been seen in recent years in such films as The Merchant of Venice and Hidalgo.    
A few months after the film's release, Nair will start directing the Christ Tucker comedy Gangster, M.D. a remake of the sensational Munnabhai MBBS starring Sanjay Dutt. The film, which could have a $60 million mid-level budget, will be Nair's most expensive, costing two times the budget of her last release, the ill-fated Vanity Fair. Jason Filardi, who wrote the script for the 2005 international hit Bringing Down the House starring Steve McQueen and Queen Latifah, is doing the honours for this one.
Meanwhile, The Namesake has been getting a lot of buzz. At Fox Searchlight, whose recent hit Thank You for Smoking has grossed $22 million at the American box-office, there are expectations that the Nair film may be one of 2006's most successful art-house releases. "We are all in love with this movie," said Nancy Utley, COO, Fox Searchlight Pictures, in a statement last week.
Searchlight is also the distributor in America for Deepa Mehta's Water, which reached the $2 million benchmark this week. Factoring the $1.5 million it has already grossed in Canada, Water has out-grossed giant Hindi language hits Kabhi Kushi Kabhie Gham and Veer-Zaara, each collecting $3 million in North America, and the $2.2 million-grossing Rang De Basanti.
Water, which opened the Toronto International Film Festival last September, also had its American premiere at the IAAC Film Festival.


What do you think about the story?








Read what others have to say:





Number of User Comments: 3








Sub: Get your facts right

Jhumpa Lahiri won Pulitzer for her book "Interpreter of Maladies" and not "Namesake". I know I am wasting my time here pointing to errors coz ...


Posted by Supriya









Sub: wrong information

Jhumpa Lahiri won the Pulitzer for Interpreter of Maladies and not for The Namesake.


Posted by Madhuja









Sub: an error

The Namesake was not pulitzer price winning creation. It was Jhumpa Lahiri's first book (collection of short stories), Interpreter of maladies that won Pulitzer


Posted by Nishit






Disclaimer