Home > Movies > Reviews

Bad tunes for Prithviraj Chauhan

Sukanya Verma | June 07, 2006 14:09 IST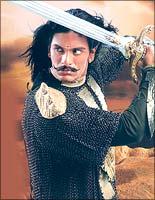 Things keep getting bigger and bigger, if not necessarily better. Case in the point: Star Plus launching the music of its magnum opus TV serial, Dharti Ka Veer Yodha Prithviraj Chauhan.
The score is helmed by Ravindra Jain, who, besides scoring the music for Ramanand Sagar's Ramayana, has created lilting melodies for movies like Ram Teri Ganga Maili, Henna and Chitchor. What you get is al album that alternates between bhajans and romantic tunes. Jain also pens the lyrics, which are inconsistent and uninspired.
The opening track begins hailing the great king and his legendary tale of love and valour. Reminiscent of the ethnic treatment A R Rahman imparted on Mangal Mangal (Mangal Pandey), this is a fairly cheerful composition, thanks to Shahid Malliya's lively singing.
In the monotonous plea, O Vidhaaata, Prithviraj's parents -- King Someshwara Chauhan and wife Karpuravalli -- pray fervently for a child. God obliges. And that means it's lullaby time for baby Prithviraj. Sadhana Sargam's gentle crooning of Raj Dulare So Ja is appealing, but the stereotypical nature of this composition isn't.
Ajoy Chakraborty regales with his classical rendition of Uttaradhikari. The play of sitar and beats in the arrangement is effective and adds to the track's intensity.
Prithviraj Chauhan to hit television
The normally effervescent Udit Narayan sounds tedious as he painstakingly grieves about love in Sunn Re Megha. Shreya Ghosal lends adequate support to its notes though.
Jai Bholenath sticks out like a sore thumb -- a typical film song reducing a historic figure to a roadside Romeo. It's hard to digest a dancing Prithviraj requesting the Almighty to help him stage a rendezvous with his dream girl.
Suresh Wadkar's melodious voice makes the philosophy and poetry of Mitti an attractive experience.
By and large, the music of Prithviraj Chauhan is strictly functional, never imaginative. Steeply priced at Rs 195 (per CD), then, it's hardly worth a buy.
Want to see this movie? Check out Rediff Movie Tickets!



What do you think about the story?








Read what others have to say:





Number of User Comments: 2








Sub: music

whoever wrote the review does not watch the serial.prithvi does not sing the song,its his friend who sings it.prithvi was captive at that moment


Posted by anshuman









Sub: Rediculous review

I dont think that u have enough knowledge of music to review the album?


Posted by vishalpawar






Disclaimer