Home > Movies > Bollywood News

The Bapsi Sidhwa-Deepa Mehta connection

Arthur J. Pais | June 06, 2006 15:33 IST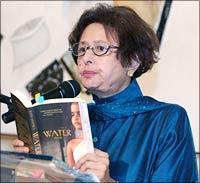 Eight years after Deepa Mehta turned Bapsi Sidhwa's novel Cracking India into an acclaimed film called Fire, and a few weeks after Sidhwa published the novel Water based on Mehta's award-winning art house hit by the same name, people are wondering if the two will work together again soon.
"We have a very good rapport," says Sidhwa, with a mischievous smile. "People often ask me if we have a spiritual connection. I can say this much -- we agree on intuitive levels."
Deepa Mehta's Water wows Toronto fest
Sidhwa, who is based in Houston but has been travelling to many cities over the past few weeks to promote Water, says the Toronto-based Mehta is "keen to make a film based on my novel, The Crow Eaters."
But that may happen only after Mehta completes her big budget film based on the Komagata Maru incident in 1914 that challenged Canadian efforts to exclude non-whites from the British colonies immigrating to that country.
A hit in England when first published in 1983, The Crow Eaters is a comical novel with sad edges that brought Sidhwa many new readers when it finally arrived in America in 1992.
The story centres on Faredoon Jungelwalla, who runs a store in Lahore with his wife and her loathsome mother Jerbanoo on the floor above. The tragedies in his life and the unexpected happenings -- including the unexpected marriage of his awful-looking son Behram to the beautiful Tanya Easymoney -- take place with a tumultuous India in the background. The Raj is ending; there is going to be violence. But there is also some humour around.
Snapshots of Deepa Mehta's Water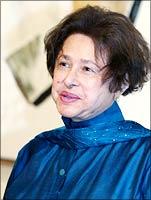 "There was always humour in my stories and novels, even in Cracking India," Sidhwa says at a book reading in New York. "And Deepa likes that. When I sat down to write Water after watching the film again, again and again, I found that there was plenty of subtle humour in it, too. I worked on making it blossom in the book."
At a recent New York reading engagement, Sidhwa was interviewed by Phillip Lopate, the distinguished academic and writer whose benchmark book American Movie Critics received a three-page rave review in The New York Times Book Review a week ago. Sidhwa's reading at Tamarind Art Gallery was organised by the Indo-American Arts Council. Over 200 people -- a significant number of them non-South Asians -- attended, overflowing the gallery space. The film, now in its sixth week in America, has grossed about $1.8 million. Add to that the $1.5 million it grossed in Canada last year, and one can safely say it has beaten the record set by Kabhi Khushi Kabhie Gham.
Writing a novel based on a screenplay was a first to her, says Sidhwa, adding that while it takes her about four years to write a novel, she had no choice but to produce Water in just about four months.
Having decided that she would give more background to some of the characters, including the child widow, Sidhwa says she began to read extensively about the widow system in India and various related customs and traditions. She was able to explain the background of many rituals and customs that the film, given its running time, could not.
Will she be working on creating another novel if Mehta were to continue making her elemental films, following Earth, Fire and Water?
"There were just three," says Sidhwa, chuckling. "There is no Air."