Home > Movies > Interviews

The Rediff Interview

On playing Santoshi Ma

June 02, 2006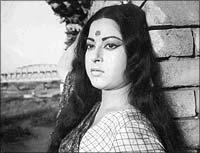 When Anita Guha signed on for Jai Santoshi Maa decades ago, she probably had no idea how the film would lift her to instant stardom, even to the point of actually being worshipped by people.
Released in 1975, the same year as Sholay, the film became a blockbuster hit. People looked up to it so much that they would actually remove their shoes before stepping inside theatres. Guha went on to star in quite a few other films -- she even played mother to Rajesh Khanna in Aradhana -- but her growing fame for the religious classic surprised her.
| | |
| --- | --- |
| | More on rediff.com! |
| | |
Now, Jai Santoshi Ma will be aired on television for the first time this Sunday. rediff.com asks Guha what she feels about it.

Has Santoshi Maa touched your life?


Yes, in a strange way. I still remember the first day of shooting. I hadn't eaten breakfast, assuming I would eat something after arriving at the sets. But, as the day went by, I was so busy that I completely forgot to eat. The director asked me to have a bite, but I couldn't because I was in costume. I decided to eat after the shot. When we finished, I realised I had not eaten the entire day. From that point, everytime I played the character, I would fast.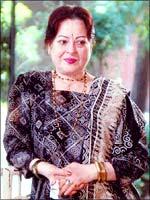 How did your life change after the film?
I wouldn't say it changed, but it felt strange when older women would want to touch my feet. I remember someone placing a new born baby in my arms, asking me to bless the child. Some time ago, I received a call from an Ashram in Ujjain. A woman there managed to get my number and called me. She kept asking if she could she talk to Jai Santoshi Maa. I told her I was the same person, but she kept insisting on wanting to talk to the real Santoshi Maa.
Is there any message you would like to give younger generations now watching the film?
I would like parents to tell their children that they should watch this film. The younger generations should know about our culture and traditions.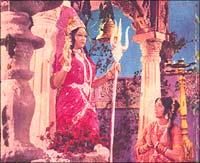 Have you become a Santoshi Maa devotee after the movie?
No. I am devotee of Kali Maa.
Jai Santoshi Maa is being remade today. Do you think it will achieve the same kind of success?
I cannot predict its success, but it will definitely different. Let's wait and see.
Catch the satellite premiere of Jai Santoshi Maa on Star Gold on June 4, at 1pm.


What do you think about the story?








Read what others have to say:





Number of User Comments: 4








Sub: praise

interview was good i want to say that it should have been telecasted on DD since it should be viewed by more people


Posted by anuj kumar jha









Sub: Beautiful Interview!

Thank you! Wonderful to see old stars!


Posted by prabal









Sub: Jai Santoshi Ma

HOW CAN YOU SAY THAT, Jai Santoshi Ma will be aired on television for the first time this Sunday? Earlier it was aired in DD ...


Posted by usnarayana









Sub: The Hindu Attitude Towards Religion

The tragedy of Hinduism has been that it's devotees have always chosen paganism over religiosity. For the great majority of Hindus religion is primarily about ...


Posted by Saikat






Disclaimer