Called
Naya Office Office
, the serial will be
about situations and funny incidents that take place in our daily lives. The show revolves around six characters -- Mussadilal, Mr Bhatia, Mr Pandey, Mr Shukla, Mrs Usha and Mr Patel.
Like the earlier version, Naya Office Office deals with the problems faced by the characters -- from rations to electricity bills, insurance policies to the telephone exchange. But not everything is the same. From the traditional government office environment, the new show moves to a more contemporary situation. It stars Pankaj Kapoor, Manoj Pahwa, Hemant Pandey, Sanjay Mishra and Asawari Joshi. Vrijesh Hirjee, plays the role of Mr Patel, which was earlier played by Deven Bhojani. Here's what they had to say about the show's return.


Vrijesh Hirjee plays Mr Patel

Patel is a typical government employee. If any client talks to me without greasing my palms, I have very little to do! I am very excited about this serial and agreed to do it the minute I heard the script.


I have to carry the additional burden of living up to audience expectations. As this role was earlier played by Deven Bhojwani, expectations are high. There is bound to be some comparison. But Deven and I are different individuals. I will portray the character in my own style. I have acted with almost everyone in the cast earlier. I have worked with Pankaj Kapoor in Godan and have great respect for him. I am confident the audience will like Naya Office Office. They will be able to connect with the contemporary issues portrayed in the show.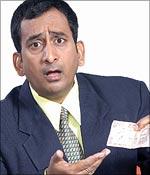 Hemant Pandey plays

Pandeyji

Mr Pandey is a very sensitive person and gets offended if he is not called Pandeyji!
He is the same old character from the earlier version and you have to pay him to get anything done. The new show carries on the legacy of good work from its predecessor. Only the channel has changed; everything else is the same.
I last worked in LOC, and it feels great to be back on TV. Rajeev Mishra is an excellent director and the sort of person you can rely on. The script is the base of any comedy and he has done justice to it.
There is no denying the fact that an additional responsibility has to be shouldered if you are working in a sequel. But I would not like to call this a sequel -- it is an extension to the old show.
For me, a perfect comedy needs to have perfect timing. And Naya Office Office does.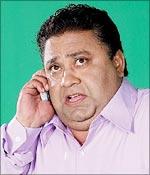 Manoj Pahwa plays Mr Bhatia


Mr Bhatia's life revolves around eating. It is not enough to grease his palms, you have to fill his stomach as well!
We have put in a lot of effort and I am eagerly awaiting the response to the first show. Despite everything else remaining the same, the packaging is different.
Teamwork is very important for success and this serial is strong on that front. Lately, the standard of comedy shows has been dropping. This is going to give back comedy the stature it deserves. We completed 250 episodes the last time; I am sure there will be more this time!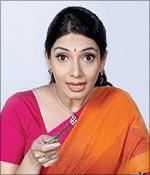 Asawari Joshi plays Mrs Usha


Mrs Usha does all her housework at the office -- be it cutting vegetables or knitting sweaters. Best of all, she gets this done by people who want their work done by her.

Naya Office Office
is not very different from the old one. People know that government offices will never change their way of working, and that is what they want to see.
I am the only lady in the cast. Whenever the audience thinks of Ushaji, it has to be me. No one can replace that. The show
has that combination of a powerful script, good performances and perfect timing. I am confident it will be a huge success this time too.

Watch Naya Office Office every Friday, at 8:30 pm on Star One