Home > Movies > Reviews

Finally, Reshammiya seems tired

Sukanya Verma | July 20, 2006 14:18 IST



Is Himesh Reshammiya the only music director in town?

After Aksar, 36 China Town, Shaadi Se Pehle, Banaras, Tom Dick And Harry, Phir Hera Pheri and Chup Chup Ke, the soundtrack of Raj Kaushal's caper flick Anthony Kaun Hai? -- starring Sanjay Dutt, Arshad Warsi, Minissha Lamba and Anousha Dandekar -- is Reshammiya's next offering.

The man is obviously working too much; the strain shows.

The album begins on a confident note with Ishq kiya. It is everything you expect a Reshammiya number to be. The beats are catchy, the vocals are nasal. A modified version of Jhalak dikhlaaja -- which in turn was Aashiq banaya aapne rehashed --Ishq kiya is a beat lover's delight. Sami's pumped up remix too bears a snappy resemblance to the original.

Reshammiya and KK jam merrily through the zingy No way! No way! In keeping with current trends, No way is a fancy song with loads of attitude and zero melody. The up-tempo remix fares slightly better.

Sonu Nigam wobbles through the insipid Bhangra pale. Not authentically Punjabi in flavour or energy, this wangling, dull piece of music begs to be skipped forward. The flashing remix fails to infuse life into this drab ditty.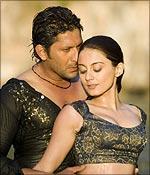 Husband-wife Kunal and Gayatri Ganjawala coo Because I love you. Though the lyrics are ordinary, this breezy duet is worth a listen only for the mushy exchange between the Ganjawalas. The same cannot be said about Sami's jingling and discordant remix.

Reshammiya fuses electronica with the ambience of black and white oldies to produce Tune mera chain vain le liya. The combination may sound exciting, but the outcome is lame and lacklustre. Even the usually effervescent Kunal Ganjawala and Shreya Ghosal sound their disinterested best here.

The offbeat Let's rock merges old-fashioned rhythm with rap. Sunidhi Chauhan's rendition makes this track an interesting experiment, though Arya's rapping limits the overall impact. Sami's Chemical Brothers-inspired remix, with undercurrents of rave and strokes of techno, is groovy nightclub material.

Even if repetitive, Reshammiya's songs carried some zing. But his work in Anthony Kaun Hai? suffers from an overkill of the same old masala. The result is a very ordinary soundtrack.
Rediff rating:

Want to see this movie? Check out Rediff Movie Tickets!



What do you think about the story?








Read what others have to say:





Number of User Comments: 9








Sub: not love

i not like thise type of music of reshmiyajee. plz do best. best of luck


Posted by swarup









Sub: reshammiya

please leave him alone.can any one of you giving you views sing even half as good as he does.And he is only giving masses what ...


Posted by ash









Sub: finally!

Finally Rediff/Sukanya makes an honest statement about Reshammiya\'s (zero melody) numbers! Keep it up:-)


Posted by Abhijit









Sub: Finally, Reshammiya seems tired

Finally.. can we please stop shaping a celeb image to an idiot. Himesh R is an insult Hindi music industry. Dont project him as a ...


Posted by san









Sub: Himesh still rocking.

I have gone through the contents of your article, but not agree with the title as the numbers ishq kiya and no way are bearable ...


Posted by TRIBHUVAN PUROHIT






Disclaimer