| | |
| --- | --- |
| Suhasini Mani Ratnam | |
| | |
| | |
| | |
| | |
| | |
| | |
Advertisement
July 14, 2006 15:30 IST


She has been part of the film industry for 25 years, wearing all kinds of caps -- actor, director, dialogue-writer and producer. Now, Suhasini Mani Ratnam has forayed into theatre.

Articulate, bright and chirpy, she tells Radhika Rajamani about her latest work, her famous husband, and her interesting, colourful career.

On her role in Guru, starring Aishwarya Rai [Images] and Abhishek Bachchan [Images], Mani Ratnam's latest bi-lingual

I have scripted the first 20 scenes of Guru. Mani bought me a ticket and asked me to go to England [Images], where my sister lives. He sent me blank paper and some ideas, so it was a paid holiday. Mani grew up in the city, whereas I am from a small village even though my family was full of lawyers. I went to a government school and know the nuances of village life better. Guru is a village film in the beginning, before it shifts to the city.

On Telugu movies

I have done four Telugu films - Tanu, Seethakoka Chiluka, Vaalliddari Vayasu Padahare and, now, Amma Cheppindi (where I play a mother).

On Tamil cinema

I am not doing any films on the Tamil front. I was supposed to do one with Dhanush, but it was shelved. I have been offered a lot of Tamil films, but I will not do any unless it is extraordinary.

On her foray into theatre

About four years ago, Revathy and I wanted to get into theatre. So, we began rehearsing the play Sarala, based on two sisters, written by Sujatha. We rehearsed for about five days from 7 am to 9 am, made necessary changes, then stopped because we both got busy. I did a short version of Reading between the Lines (based on Sujatha's short story Iru Kaditham) in September last year. I liked the South Indian English and the feel of it.

I did a Tamil version of a mother writing to a daughter -- Saraswati writing to Sumati -- about a South Indian upbringing and culture. It was a regular play, with beautiful lighting. I walked from one end to the other. I didn't have the visuals (which I added later for the staging at Hyderabad). People liked it. I think it is meant for supper theatre. I will take this around, even abroad, for the next six months. I also want to do it in French, as I speak the language. Shobhana, Prakash Raj [Images] and I have been thinking of doing performances -- like dance, music and dialogue. S P Balasubramanian also said he would join us, but this project is taking time as each of us is busy.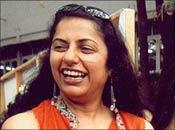 On doing a lesser number of films

I cannot understand how some actors are doing serials -- working every day. For me, going to the gym for an hour is important not because I appear on screen, but because I am healthy. I can't give all that up and go for a shoot every day. Before marriage, I didn't have responsibilities. Now, I have lots. And, being a perfectionist, I like to do everything myself.

On working with Mani Ratnam

Mani wanted me to work in Anjali, but he thought even that wasn't good enough for me. He wanted to have something substantial to cast me. I would like to be directed by Mani Ratnam but, of course, it is not a big deal. I know the man. I think Balachander will make me act better. Mani's characters will be good but, when it comes to performance, I think Balachander is even better; or, for that matter, Bharati Raja, Mahendran or Kranti Kumar. Mani has considered me for many of his films -- Mouna Ragam, Nayagan (for the daughter's role). He is a good director -- he does not need a co-director. He just needs help with writing so he can concentrate on the making. I wrote the dialogues for Iruvar.

On her journey in cinema

I have been hooked to cinema since childhood. I am like a typical Indian villager who had no other source of entertainment while growing up. Cinema was the only exposure to the outside world. So, the obsession was inevitable. People think we are serious as we are, unfortunately, good at doing serious roles. I can do lighter roles though, like a mad woman or a crook, much better. In real life, I am not that serious. I have a great sense of humour. I am teasing, taunting and authoritative. I would like to work with Kamal Haasan [Images], but he is sceptical. I have no problem, but he can't see me as a colleague.

On her social responsibility

I don't believe in God, in prayer, in going to temples begging God to give me and my family happiness. I am not asking everyone to be an atheist, but good thoughts are not spent in a temple. You are not going to make money merely by reciting slokas; you need to know the share market, mutual funds and so on. I am learning French even though I am a housewife, a mother, daughter, friend, agony aunt to friends and family. I am practical. That is why I am into social work.
I am a well-wisher of the Ability Foundation. I have been part of Action Aid and have done a film for them on the empowerment of women. I am on the board of the Health Trust started by Srinidhi Chidambaram. Recently, I became the spokesperson for an NGO called Mukti, which distributes artificial limbs. It has distributed 1,20,000 artificial limbs in 20 years and the people behind it want to distribute 80,000 this year. I have also pulled Madhavan [Images] into it, and he is a spokesperson.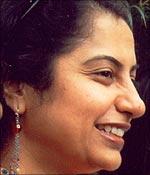 I look for different kinds of activities to help different people. Once, for Exonora, we had a garage sale of old clothes only for maids of the colony. All items were priced reasonably (Rs 10 for a sari, Rs 2 for blouses, Rs 5 for pants) and we collected Rs 25,000.

On balancing home and career

Everything is physically possible. The advantage for me is, I have a husband who is straightforward. He and I think alike. When there is a crisis in the house, I don't expect him to drop work and come to help me out. If I think I might make a mistake, I might consult him. Similarly, Mani will not disturb me at work if there is a crisis. Being lethargy is wonderful and tempting (laughs) though, and I sometimes long for it.

On her child

My son wants to be a politician and an economist. He is following Prime Minister Manmohan Singh [Images]. He wants to study at the London [Images] School of Economics and then get into politics.

On the Khushboo episode
All women (every woman, in fact) are together and their sympathies are with Khushboo. They agree with her about a lot of things and feel that one has freedom of speech. If a man has freedom of speech, why not a woman? It also shows how scared they are of that one particular party. The whole thing was made political.
For Khushboo and me, it was waste of a lot of money -- I had to stop my reality show Ladies Junction because of that for a while. As I am a champion of freedom of expression, I did a few episodes in January. The Tamil people are lovely, they adore you -- it's just a few people who do things like that. At the end of it all, I realised I have made a new friend in Khushboo, who will do anything for me. That is the upside of it.
I was not scared that I was threatened. I was disappointed and felt sorry that they were cowards. In fact, a Telugu actor who lives in Chennai (whom I don't want to name) called and said 'Why don't you send a few bangles to people like us? We don't deserve to be called men.' He told me I was the only man in the film industry. Another young Tamil actor called and told me
'You are the human being -- the rest are all dogs. Let them bark.'

Photographs: Sreeram Selvaraj