Advertisement
July 03, 2006 13:36 IST


The players: Four good-for-nothing mischief-makers.

The target: An unsuspecting blind couple with a bungalow.

The problem: The wastrels are expelled from the hostel, leaving them with nowhere to go.

The plan: To trick their way into the blind couple's bungalow.

That's the soon to be released Golmaal for you. The title invariably brings back memories of the much-loved Hrishikesh Mukherjee 1979 comic caper of the same name.

If you are purist, you will heave a sigh on learning, that except the genre and title, the two Golmaals have nothing in common.

At least, that's what it seems from the soundtrack of the film.

Music composers Vishal-Shekhar furnish this fun flick -- which stars Ajay Devgan [Images], Arshad Warsi [Images], Paresh Rawal [Images], Tusshar Kapoor, Sharman Joshi and Rimi Sen [Images] -- with their trademark bounce.

Does the music work? Occasionally, yes. But on other times they fail to pass muster.

One-time band member of the desi Spice Girls [Images], Viva, and erstwhile Channel [V] veejay Anushka Manchandani oozes oomph in the zingy title track. Composer Vishal Dadlani [Images] lends an inconspicuous helping hand in the vocals department. A snazzy tune nevertheless, that works, thanks to Anushka's carefree, chilled out rendition.

Aage peeche resembles Kajra re (Bunty Aur Babli [Images]) and Aake seedhi lagi (Half Ticket) with its 1950s flavour. It is also picturised comically in black and white on Paresh Rawal and Sushmita Mukherjee spoofing Madhumati. Shekhar and Sneha Pant amuse you with a silly camaraderie, which goes well with the teasing mood of the song. DJ Sami's remix doesn't interfere much with the flow of the original's rhythm, except accelerating the pace.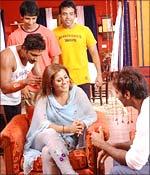 Injected with a generous dose of Gen Next attitude, Mast malang is crooned with remarked zeal by Kunal Ganjawala and Vishal Dadlani. Though no amount of jazz-up can lift this wishy-washy ditty.

Traces of Cham se (Dus) echo in the bhangra number, Rehja re. The pompous arrangement fails to exhilarate but works just fine as a nuisance factor. The same can be said about Sami's mediocre remix of the same.

Shaan, K K and Vishal Dadlani sing excitedly in the racy and infectious Golmaal. The yet another title track of the album is rather flimsy in the lyrics department (by Vishal and Kumaar). But the gusto with which these guys perform this peppy number about four pranksters makes all the difference. Accompanied by a playful bagpiper in its remix version by Akbar Sami.

A lively, catchy whistle is what appeals most about the Golmaal theme. But then it becomes a stereotypically Westernised, wannabe instrumental.

You may not find classic melodies in this soundtrack, like its 26 years older namesake had. But if you are looking for light, frolicking fare, this Golmaal isn't a bad deal.