Home > Movies > Television

Jarring notes in the Sa Re Ga show

Patcy N | January 25, 2006 16:38 IST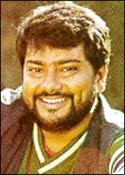 Zee TV's Hero Honda Sa Re Ga Ma Pa Challenge is neck-deep in controversy once again.
Three of the singing talent search show's contestants -- Himani, Vinit and Hemchandra -- quit. The reason cited was that they had been threatened by the outlawed militant outfit United Liberation Front of Asom. But they returned to the show the next episode.
Earlier this month, Ismail Durbar, one of the judges, walked out of the television show. Because one of his students, Nihira, was voted out. The show divides contestants into gharanas, each gharana under the supervision of a judge.
"I got upset then [when Nihira was voted out], as I thought that was a wrong decision," says Durbar. "I wanted to quit at that very moment. But I was overcome with shock. And I did not want to go in silence. I wanted to quit in front of the audience, as I wanted them to know what was happening."
| | |
| --- | --- |
| | More on rediff.com! |
| | |
Durbar planned to walk out in the following episode, but it was a special episode featuring cricketer-turned politician Navjot Singh Sidhu. And the Durbar, who has scored the music for hit Hindi movies like Devdaas and Hum Dil De Chuke Sanam, changed his mind about walking out.

But when the other judges – music directors Aadesh Shrivastava and Himesh Reshammiya – gave less marks to another Durbar gharana contestant Debojit's performance, Durbar decided it was time.

He walked out of the show, saying the situation was too suffocating for him.

It was felt that the audience sympathised with Debojit and the 'injustice' done to him, and voted for him.

But now, Durbar is back, and he explains why.

"Gajendraji [Singh, the show's producer] came to my house the next morning and tried to convince me for five hours to return to the show. He told me that I was the only person who has always stood by the truth. I said I would return -- because I did not want him to suffer for no fault of his.

"Another reason was that Debojit told me that if I would quit, he would follow me, as he did not have anyone in Mumbai, and he would follow his mentor.

"I asked Debojit to clarify what was actually wrong, and the child started crying. He told me he was an engineer by profession. He worked hard to become a singer. He knew that if he quit with me, his singing career would be ruined. He also said he had no links with ULFA [Debojit is from Assam, and ULFA is an Assamese militant outfit], and that someone was plotting against him."

Does Durbar think Aadesh Shrivastava created the controversy?

"It is obvious but I will not take names for the sake of decency. I have tried telling Aadesh many times backstage."

The two music composers don't see eye to eye, and have had confrontations before.

It is not yet clear if ULFA actually threatened the contestants or not. Durbar claims Himani, Vinit and Hemchandra quit due to pressure.

"I know why they quit but I will not tell. They have quit under somebody's pressure. And the three of them told me this themselves," he says.

Incidentally, the episode after the ULFA threat drama, Himani was voted out.

"When I returned to the shoot, Himani [who was in Shrivastava's gharana] came crying to me and apologised so many times. I told her that she should take her own decisions, and not act under pressure."






What do you think about the story?








Read what others have to say:





Number of User Comments: 51








Sub: HIMANI,NIHARA,HEMU why they are missing

where are HIMANI,HEMU,NIHARA they are not included in your new show ek main aur ek tu,please call them the show is incomplet without them


Posted by R Cooper









Sub: song for saregamapa

dear sir, i have composed many songs but one song i specially composed for zee tv saregamapa contastant my song speaks about their feeling their ...


Posted by abhijit









Sub: Wrong Decision

When a participant after singing in the most awful manner wins a challenge over the very talented Vinit,Chandu,Himani and Nihira through the overwhelming and regionalised ...


Posted by Anoopam Agarwal









Sub: saregama program

saregama pogram is best


Posted by mahendra h prajapati









Sub: Vinit

I think Vinit is the best singer comparesion than Debu. well now he won SA RE GA MA PA Challenge.. so i would like to ...


Posted by Shabi Khan






Disclaimer