January 18, 2006 16:28 IST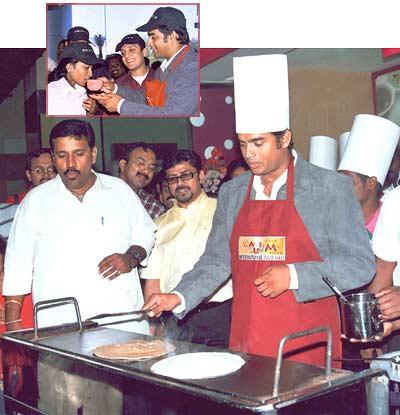 A dosa for Rs 25,000. And coffee for the same price.

The price may seem unbelievable, but there will be takers because both items on the menu have been prepared by a film star called Madhavan [Images].

The actor displayed his culinary skills while inaugurating Planet Yumm Ascendas, the first 24/7 food mall in the IT corridor of Chennai.

Unlike most stars, he arrived on time, looking at his watch the minute he stepped out of his car. It was
11.30 am, the exact time announced by organisers.

After cutting the ribbon and making visits to the first few stalls in the mall, he stepped behind a hot stove, chef's cap on his head and a spoonful of batter in his hand. He looked ill at ease in his role of Guest Chef, although the experience of acting in films like Nala Damayanthi and Ramji Londonwale must have helped!

Madhavan made not one, but two dosas, and both came out extremely well. The minute they were ready, it was auction time.

The crowd was over-enthusiastic and the price kept climbing, settling finally at Rs 25,000 and paid by Mahalingam from London [Images]. Madhavan added another Rs 20,000 to the amount, which was being collected for The Banyan, a home for abandoned, mentally challenged women.

The star's next stop was the Qwiky's Coffee shop, where he made a cup of coffee and autographed the cup. Once again, it fetched Rs 25,000. Madhavan also helped auction a painting by Thotta Tharani for Rs 1 lakh. 45 minutes later, visibly happy, he left the mall. Without stopping for coffee or a dosa!
Text: Shobha Warrier | Photographs: Sreeram Selvaraj