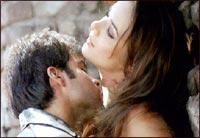 In show business, you are as good as your last success.
This cliché explains the workings of Mumbai's formula driven industry.
Filmmakers, actors and music directors dish out the same old recipe with slight variations and fear the risk of exploring unknown territory.
Now, we have Dil Maange More director Anant Narayan Mahadevan switching tracks to attempt a standard thriller high on seduction, scandal and suspense. You know what to expect from a film that boasts of Emraan Hashmi in the lead.
Other than Hashmi and his lips, the cast includes Dino Morea and Udita Goswami.
But let's sample the movie's music first.
Trying to cash in the success of last year's runaway hit Aashiq Banaya Aapne, Himesh Reshammiya dons two hats -- composer and singer.

 
His nasal rendition of Jhalak dikhaja may be no great shakes, but it has its own set of admirers. Though Jhalak is no 'different' from the title track of Aashiq Banaya Aapne, it is admittedly addictive. The song is bound to match the success of its predecessor, if not surpass it. The unplugged version goes easy on the arrangement, as opposed to the remix by DJ Akbar Sami.
| | |
| --- | --- |
| | More on rediff.com! |
| | |
More Reshammiya follows with Lagi lagi. Laidback in pace and earthy in flavour, Lagi's USP is not its music. It's the picturisation. Paap starlet Udita Goswami goes overboard with her wardrobe changing into a variety of skimpy black outfits.
The next tune is all about inserting catchwords! Exit Janabe aali (Kismat), and enter Janabe jaania. Reshammiya continues to wield the microphone, crooning Mohabbat ke along with Tulsi Kumar. Though the song itself is 
a little staid, it gets much-needed lift in Sami's remix.
Reshammiya takes a break and lets K K and Sunidhi Chauhan have all the fun in the buoyant and hopelessly mushy Soniye. Not bad at all. And then Sami takes his remix wand and turns slow 'n' steady into fast 'n' furious. The makeover results into a vivacious and foot tapping avatar of Soniye; no one's complaining.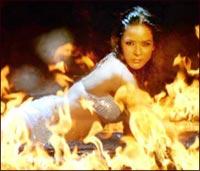 Creepy in element and mellow in nature, the Aksar theme is nothing fancy. It does bear a strong I-have-heard-this-somewhere-before feel to it though.
Interspersed with the Aksar theme, Loot jayenge features Kunal Ganjawala and Jayesh Gandhi playing the
quintessential
Romeo to the hilt. Trust the effervescent K J to breathe life into a regular song. An unimaginative remix ensues.
So what if most of the soundtrack seems pretty much the same? So what if it's Reshammiya at his recycled best?
The soundtrack of Aksar is catchy and guaranteed to score.