Advertisement
January 16, 2006 16:02 IST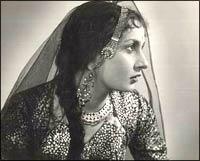 If you do an Internet search on Nadira you will probably find a list of her movies, or a few recent articles about her illness.
But not much has been written about this boisterous actress who had the audacity to play negative roles in the 1950s and 1960s -- when most heroines portrayed the virginal pativrata nari.
July, Pakeeza, Shri 420, Sagar and, more recently, Pooja Bhatt's [Images] Tamanna, Josh and a teleseries, Margaritta, with Milind Soman [Images], are a few of her works that showcase her stunning beauty and performance. She mostly acted in villainous roles.
However, apart from the hospital registrar and a few close friends, no one even knows her original name is Florence Ezekeil. She has two brothers, one in the US and one in Israel. But before you peek into her life, acquaint yourself with her present state.
| | |
| --- | --- |
| | More on rediff.com! |
| | |
Nadira is in the Intensive Care Unit of Mumbai's Bhatia Hospital, where she was admitted on December 27 last year.

When I entered the second floor ICU last Wednesday, Nadira's maid Shobha was very protective. However, she led me to bed 233. A shiver ran down my spine.

What lay in front of me was a bundle tied together with lots of tubes, her neck given support and her head hanging low in it.

Images of her youth flashed through my mind. I was wondering what happened to her, and I was wondering god knows how many other yesteryear actresses might be lying similarly alone in their sprawling homes.

I guess Nadira sensed some presence, so she opened one eye. The other eye's nerve is affected, and she can't open it yet. She extended her hand slowly. I stood there frozen and puzzled. Her maid then took me away.

On my second visit to the hospital, Dr Arpita, the ICU's medical head, explained, "Nadira was brought in a semi-comatose state. She had patches and bruises all over her body. She is suffering from tubercular meningitis, alcoholic liver disorder and paralysis and had developed a complication of tubercular meningitis. We have been feeding her through tubes. However, she seems to be getting better now after about 18 days of treatment and may be discharged within a week depending on her condition. But she will require a nurse at home."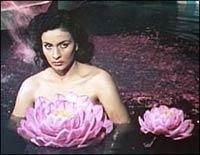 I left the hospital shaken. Though I was no fan of hers, to think of such a beautiful woman frail and bedridden was just too much.
Considering she had made no public appearance in three years, like many others, I assumed she was a loner. On reaching the Vasundhara building near Mahalaxmi temple -- where Nadira lives -- I was in for a pleasant surprise.
Her 12-year-old neighbour and friend Abhay Chopra gushed about how just last month on December 5, the kids in the building relished cakes and Biryani while celebrating Nadira's 75th birthday.
"I love to meet aunty. We kids drop by once in a while at her place. She is very fond of us and we love interacting with her," Abhay said.
Another neighbour, Kaushal Agarwal, said, "I used to borrow books from Nadira Aunty. She has a wonderful library stocked with works of Shakespeare, Hitler [Images], Vivekanand, books on World War II, religious books on Judaism, books by German philosophers among others. To my sister Deepika and me, she is like our grandmother."
While a neighbour, Sona, raved about Nadira being an agony aunt and patient listener, another, Rajesh Agarwal, said, "She is very fond of music and listens to the radio. She does not like to watch television. However, she reads newspapers diligently and can discuss current affairs at length. In better days, we would sit with her friends Nimmi and Shyama and play cards too."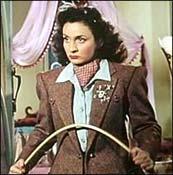 While leaving the building, the liftman confirmed that Nadira is no loner. "She has regular visitors -- friends from the industry and otherwise. People like Tanuja, Nimmi, Shyama, Deepti Naval [Images], Milind Soman and others drop in once in a while," he said.
Actor Tom Alter reminisced, "Nadira has been a woman so much ahead of her time -- in fact, she was a woman for all time -- beautiful, bold, truthful. What today's woman strives to be, Nadira was 50 years ago."
Her co-star Milind Soman, visiting her at the hospital, said, "On the sets of Margaritta, it was a treat to work with her. A very graceful lady, she would perform her role with the utmost care and treated all of us like a family. I drop into her place once in a while, with our serial's director."