Advertisement
January 13, 2006 16:27 IST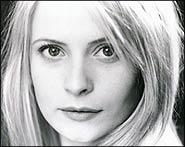 Alice Patten enjoys talking endlessly about spending five months working in India for Rang De Basanti [Images]. She loves to talk about how the filmmakers made her feel utterly at home in India. And she would say sincerely that her Bollywood experience prepped her for a successful auditioning for the West End edition of Hamlet.
But is she ready for yet another Bollywood film? "Not immediately," she says.
Perhaps not even for a year, says the actress, who will play Ophelia in Hamlet starting February 23. "Doing the Bollywood film was a step in the right direction," says the 26 year old.
Before coming to India, Patten appeared in a handful of significant plays. One of them, Cigarettes & Chocolate, was directed by Anthony Minghella, maker of the Oscar-winning film The English Patient. She also had a few small roles in television films.
| | |
| --- | --- |
| | More on rediff.com ! |
| | |
"It was my first feature film and I learned a lot," she continues, adding how her father Chris Patten, the last governor of Hong Kong before it was ceded to the Chinese, had absolutely encouraged her to do the film. He told her it would be a life-affirming experiencing and make her more resilient and resourceful. "But going back to a Bollywood film immediately won't be a step in the right direction," she says, speaking over the phone from her London [Images] home. "I ought to try my hand at other kinds of films." Besides, she wonders how many meaningful roles are waiting for British actresses in Indian cinema.

In the Aamir Khan-starrer Rang De Basanti, Patten plays a British filmmaker who chances upon her grandfather's diary and reads about his encounters with Indian radicals and revolutionaries during the Raj. She arrives in India to make a film about the diary. Her encounters with a group of young men and their friend (Soha Ali Khan [Images]), and her observations of the transformations the men go through during the making of the film, is the crux of the tale.

"She is a natural actress," says Ronnie Screwvala, honcho at UTV that made the $5/3 million film, which is being released on January 20 worldwide. In North America and the United Kingdom, it plays in 70 and 40 theatres respectively. "She learned to speak decent amount of Hindi in just about two weeks. And she has given a great performance."

Was she ever worried that making her movie debut in Bollywood could make it difficult to get mainstream films? Never, she says. The movie industry is becoming increasingly global, she adds, adding that it is one of the reasons why many actors from Asia are finding good roles in British and American films. The very fact that she is playing a key role in Hamlet on West End, arguably the most respected of world theatre centres, shows her Indian experience has only enhanced her profile. If she could emote using Hindi, she says with a hearty laughter, she could do even better in an English-language production.

The only thing she was really worried about, she adds, was spending five months in a country she had never been to before, and where she had no friends, let alone acquaintances. "Now, I have plenty of friends," she says, adding that she maintains contact with Soha. She also echoes Screwvala's thoughts on Soha. The young actress, who hasn't had a lucky commercial break yet, is going to soar after Rang De Basanti, Patten feels. "I hope she is going to be a real star very soon," she adds.

Alice Patten will be joined by her parents at the premiere of Rang De Basanti in London on January 19. What will she be wearing at the gala? She has a couple of ideas, she says, but it won't be a sari or an Indian-themed dress. "I play an English girl in the film," she says, chuckling. "But surely, it has to be something glamorous."