Advertisement
January 12, 2006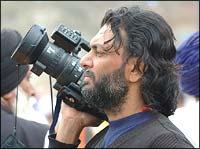 After generating an incredible amount of interest with his 2001 debut, Aks [Images], Rakeysh Omprakash Mehra casually vanished, introducing us to a maniacally over-the-top Amitabh Bachchan [Images] and the future of the Hindi film soundtrack.
Now, he's back. And we aren't talking any mid-budget return, either. Mehra's at the helm of Rang De Basanti [Images], an Aamir Khan [Images] film, which means hype, mega-budgets and massive expectations from the rest of the industry. Is he ready to deliver?
Raja Sen joined the director and talked about everything from Aks DVDs to patriotism in Rang De Basanti.
| | |
| --- | --- |
| | More on rediff.com! |
| | |
So, Rang De Basanti is complete. Are you happy with the way your second film has shaped up?
I haven't had any time to think about it, about whether I'm happy or sad. Your job is to do your job to the best of your abilities and try and put your best foot forward, which we've tried and done more often than not. Whatever we have seen right now is something I'm really excited about. As for 'happy', I don't know. Happiness has different parameters.
Before we talk about the new film, let's discuss Aks. It was a startling debut that wasn't very well received...
I think there are various parameters for a film to be called successful. One is definitely the box office. But then, we didn't aim for the box office to begin with. When the film came out, because of the cast, etc. (it starred Amitabh Bachchan in a bizarre role), there were obviously expectations placed on it, but they were just expectations, not reality.
The film has stood the test of time. Aks got its share of critical acclaim and stuff like that. It definitely started a trend [in Indian cinema] and has been responsible for a change, in its own small way. It is talked about, even today, and is growing in stature. It is being appreciated, and gaining in maturity. As a debut director, you don't think too much. You go in and make something and come out. In retrospect, you look back, see what you have done, and try and improve in your next effort.
We cherish Aks, the whole cast and crew. We have an Aks fan club comprising members worldwide, who keep in touch with me via email. That is, in itself, a huge gratification even though I would have loved to make a few more bucks out of it.
While Aks was undeniably groundbreaking in several ways, notably the slickness in production and the soundtrack, most of us who liked the film were also rather let down by parts that seemed oversimplified and dumbed-down.
That has to do with the screenplay. We could definitely do with a stronger screenplay for Aks, no question about that. I suppose you should have given it a little more time to sink in, and we should have given it a little more time before releasing it. It needed to have been edited right. Apparently, the film apparently works well for home viewing, and the VCDs and DVDs have been selling like hot cakes.
What about a re-edit, like a Director's Cut, on DVD?
Yes, I intend to do that. Now that five years have gone by, it is the right time for something like that. I have an opportunity, because of today's technology and [the advent of] home viewing, to keep the film alive. And hopefully, we will still be able to look back on Aks in ten years and appreciate it.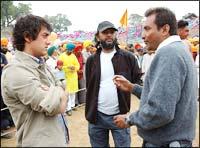 Coming to the new film, what are you trying to say with Rang De Basanti?
I'm just trying to tell a story, and that's more or less about it. I'm a storyteller, and all I'm trying to do is tell a story correctly and let it reach out to as many people as possible. I need to connect with the audience and tell them my kind of story, in my own way.
And this story is... ?
It's a very strong screenplay, which is evident by Aamir opting to do the film. He's very particular about his screenplays. Even personally, I don't get turned on by run-of-the-mill story ideas. And we've taken every word of the screenplay and translated it to the screen, to the best of our abilities. Give me three more months and I'd work more, on every aspect of it, but there comes a time when you have to hand over the film for release.
So, here goes: It's a young film, very bright and contemporary in terms of language and identity. It's definitely a 'made in India' film. I was trying to discover my style with it, as to how I should narrate stories. I guess I'll be a bit wiser after Rang De Basanti in terms of various aspects of filmmaking. It has a very strong message at the end. You will definitely come out of the movie hall thinking. As entertainers, one of our primary jobs is to entertain people, and I think we've done that. At the same time, you can't insult the audience. You have to respect them and their individuality.
Where did the concept for the film, the story, come from?
Where do stories come from? (Laughs) It's difficult to answer that question. I guess this comes from where I come from. And how I've grown, my youth, and what my securities and insecurities have been, my own skeletons in the cupboard. A film is made up of your experiences over the years.
Would you call it a more personal film than Aks?
All films are personal. Everything is a part of you, that draws from you, and you can't say that one baby was not delivered through you. They are both my babies and I am not a surrogate father.
True, but Aks was an eerie, supernatural film. This is a film that apparently reflects your college life. In terms of subject matter, it definitely hits closer to home. Is it, in the least bit, autobiographical?
It's not autobiographical, but all my friends are present among the characters. Even I am, in bits and pieces. I am not any particular character though. While making the film, you have to detach yourself personally from the subject, but you stay there subconsciously. I try and restrain myself and not bring 'me' to the forefront. I've been researching aspects of the story for seven years now; it's been on the writing desk for three years. A lot of hard work has gone into it, and hopefully it will reach out to the audience.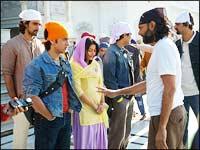 But what exactly is the plot? What is the story?
There are two ways of describing a story. One is to begin with 'Once upon a time', and then explain how the film starts, continues, and ends. That experience is something I cannot take away from the audience. The joy of discovering and interpreting the story should be their own. They should develop their own version.
What I can tell you is it is a story about today's generation, graduates and postgraduates on the brink of life. They are a band of brothers, who form a very tight group with characters like Soha Ali Khan [Images] and Alice Patten. I feel the audience will definitely see bits of themselves in each character. Rang De Basanti is about these boys and girls and how they are going about life. There is a matter of making a choice and accepting the responsibility of making it -- that is the turning point in the film. The big moment is the decision for them to accept that choice, and take on the consequences of their actions, not to be escapists. That is what the film is about. It is a film that we hope will speak to the youth of the nation and maybe -- if we achieve that kind of popularity -- the world.
So, in a way, it's a coming of age film?
Our tagline reads 'A generation awakens', but words and lines are quite misleading because a film works on so many levels. RDB is a mirror of today's times. There is a large amount of conflict in the story, and it keeps twisting and turning. The genre is drama, so it appeals to basic human emotions. It's not a caper or horror film (smiles).
What about the overall theme? From the trailers and score, it seems patriotic...
No, it's not something I'd call patriotic. It's a contemporary film. We are not at war right now to make a patriotic film. And this isn't a war film; it's a film about peace. Being global citizens today, patriotism is not the key element in our lives as such. The need of the hour is to participate in the way things are going on, rather than sitting on the fence and pointing fingers. It's a very proactive, step forward attitude. It's not preachy at all.
Coming to the tone, it looks very bright and stylised. Is it a light film?
I'm trying to discover my own tone and style of telling stories, if I have one -- and whether I should have one! It's an extremely modern film and not borrowed as such, in terms of storytelling technique. The dialogues are very conversational, and the dialogue-writing process is more like responding to somebody. There are no big lines in the film. There aren't even any larger-than-life characters. It's not about big performances and great entries. It does not draw from theatre [conventions] or folk, but from a very natural form of filmmaking.
There is a suspension of disbelief, of course -- but then there has to be. But that doesn't mean the film has to be theatrical. This is a very realistic, very true to life film.
Don't miss the second part of this interview, where Rakeysh calls the Indian PM a complete freak!