Advertisement
January 11, 2006 16:37 IST
Last Updated: January 11, 2006 17:04 IST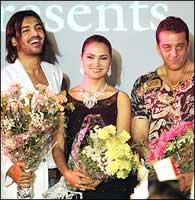 Members of the press, please don't fight," Dharmesh Sodah, president of D'damas jewellery, announces over the microphone. It's 10 pm on a windy January night at the Taj Lands End poolside in Mumbai.
We're at a grand do, organised by D'damas to celebrate the much-awaited film Zinda [Images], directed by Sanjay Gupta, and the launch of a new line of jewellery, Glitterati.
When Sanjay Dutt [Images] makes his entrance, photographers rush to him, trying to get the best shot. The routine is repeated for John Abraham [Images].
Meanwhile, the song Yeh hai meri kahaani blasts from the speakers. The hit song is sung by Pakistani band Strings' Faisal and Bilal. Abraham does a voiceover, making his debut as a singer. The song also features Dutt.
| | |
| --- | --- |
| | More on rediff.com! |
| | |
Looking dignified in a knee-length shimming black dress with a boat-neck top, Lara Dutta [Images] takes a seat next to Dutt. As the brand ambassador for the D'damas Gold Expressions line of Italian jewelry, she proudly wears the most exquisite set at the affair.

Singer-composer Shivani Kashyap takes centrestage and lip-syncs to Zinda hoon main, picturised on Lara. Within a minute, the bass increases, a techno beat begins to boom, and models arrive on stage.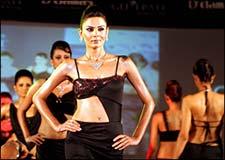 Diamonds on black is the colour code for the evening and the models wear shiny black fabrics with long frayed bottoms and differently styled tops. Hair slicked back in tight buns and eyes dusted charcoal, the models at first appear slightly frightening. On closer examination, I realise that their fabric is thin and cheap looking, with randon cuts and safety pins. But the models twinkle with creative diamond designs.
The highlight of the evening is the Strings performance, after the fashion show. When Dutt and Abraham join them onstage, the sight is spectacular.
The question-answer session that follows barely lasts five minutes, and mostly includes bizarre questions. "What does Zinda mean?" To this, Dutt's face twists in disbelief: "Alive. You don't know that?"
Later, Dutt and his leading lady make their way out, ignoring the mob of reporters, Abraham is very patient. I ask him why he is so patient with the press, to which he replies, "I am patient with everyone!"
Zinda is scheduled for a January 12 release.