Home > Movies > Interviews

The Rediff Interview

P Vasu: Ready for Paramasivan

Shobha Warrier | January 11, 2006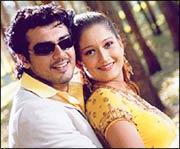 P Vasu, director of 2005's mega blockbuster Chandramukhi, is getting ready with his next, Paramasivan for the festival of Pongal. Ajith is the hero, and it is a very important film for him considering he hasn't had a big hit in recent times.
I caught up with P Vasu at his residence one afternoon, when he came in for lunch in between post-production work for Paramasivan. He looked tense. "Yes, I am nervous as the release date nears," he admitted. Excerpts from an interview:
You made Aaptamitra, the biggest hit of 2004 in Kannada. In 2005, you had Chandramukhi in Tamil. Is it going to be Paramasivan in 2006?
| | |
| --- | --- |
| | More on rediff.com! |
| | |
I hope it is. I expect Paramasivan to be a big hit because I have given the screenplay a fresh approach. More than that, I am dealing with an issue that is very current and relevant. Also, Ajith looks very young and handsome in it, just as he was a few years ago. I am sure people will love the handsome Ajith once again. He has lost around 15-20 kilos, and his lean frame suits my character.

Did you specifically ask him to lose weight for the role?

He had already lost around 5 kilos when I met him. When I told him I wanted a lean Ajith, he began swimming for 6-7 hours daily and also worked out a lot. Within two months, he had lost around 15 kilos.

You mentioned giving a fresh approach to the screenplay. Can you elaborate?

You will understand that when you see the film. Of course, all the elements like action, drama, comedy and idealism are present. I feel youngsters will identify with the idealistic hero that Ajith is. I am also dealing with contemporary issues. Although I don't offer any solution to the problems we face, I want the youth to think of them and then come up with solutions. I have given the film a good, patriotic tone.

What was the inspiration behind writing such a patriotic story?

I actually wanted to make an action film after Chandramukhi, but didn't want a typical film with a typical villain. Then, the images of some corrupt policemen, politicians and even spiritual leaders came to my mind. Of the thousands in the country, only a few are corrupt, but they affect the rest.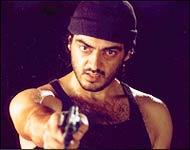 Have you used Paramasivan or Lord Shiva as a symbol to tackle these corrupt elements?
Everyone knows that Lord Shiva destroys evil when he opens his third eye. And we believe he opens it only when provoked. Similarly, my hero also reacts to evil by symbolically opening his third eye.
Do you want to send the message that every human being has a third eye he must open to save the country?
Exactly. I believe there is a Paramasivan in every man, and every individual can tackle these problems like my hero Subramanya Siva does. My hero is a soft, young, family man. He cries when he feels sad, laughs when he is happy, and loves his family. At the same time, he reacts to injustice, but only when pushed to the wall.
Malar, played by Laila, is an uneducated girl. Through her, I want to give the message that being a good human being is the most important thing in life. Another important character is Nanda Kumar, a policeman played by Prakash Raj. He is very honest and straightforward, and cannot stand corrupt people. It is he who brings out the Paramasivan in Subramanya Siva. The story is set in Chennai.
Considering Ajith is going through a lean phase, was there any particular reason you chose to do your next film with him?
My desire is to work with youngsters, and I want them to know me. I was a nobody in Tamil cinema before Chandramukhi. Even after nine flops, an actor will get his tenth film. But, if a director gives a flop after nine hits, he will not get another film. That is the way the industry functions. As far as rates go, when a hero fixes a rate, it stays. The rate of a director depends on his last film.
Coming back to Ajith, I have seen a lot of his films and am very impressed with his performance in Vaalee, Mugavari, Amarkalam and Dheena. I felt some directors brought out the best from him, while others did not.
What was Ajith like after he began working on Paramasivan?
He is more energetic and wants to succeed. He looks at everything as a challenge. I saw him work for four days continuously without sleep, as he had to finish Paramasivan as well as Godfather. I told him that, with this kind of dedication, he would never fail.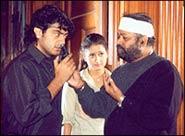 Are you happy with the way Paramasivan has shaped up?
I think it looks good on screen. I can assure you it will not be a below average or boring film.
Rajnikanth was scared to take up another project after the debacle of Baba. You revived his career and gave him the confidence to sign more films. Do you expect the same thing happening to Ajith as well?
I won't say I helped Rajnikanth. It just happened. If not for Chandramukhi, I would have continued to make films only in Kannada. So, you can also say that Rajni helped me. I will say the same thing about Ajith too. He needs a director who can bring out the best in him.
You wrote many scenes in Chandramukhi just for Rajnikanth. Did you do anything of the sort for Ajith?
When you have a popular hero in your film, you have to think of what the masses expect from him. You have to portray the hero in such a way that they should adore him. So, I make my heroes more charming and loveable. I feel the first shot of the hero should make the audience clap. If that happens, you have won the race. So, I write the screenplay with the hero in mind.
Unlike other Tamil films, Chandramukhi was marketed by Ramkumar (of Sivaji films) like a business product, and it paid rich dividends. Do you think a film has to be marketed like a product today?
Today, any product, be it a car or a film, has to be marketed well. Only if you advertise will people know about the strength of the product. In the film industry, only people like Ram Kumar or Rajnikanth understand the importance of marketing. If you market a film properly, it will not fail. But the industry doesn't understand this. What a producer does today is, when shooting begins, he goes and pays an advance to a bigger hero for his next film. Instead, he should be spending the money on marketing his film.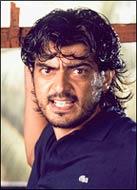 Prakash Raj marketed Kanda Naal Muthal as a film for youngsters who love fun, and it became a surprise hit.
He took a big risk by backing a new director. I don't think any big producer would have done that. Prakash Raj is a character actor, not a hero, yet he pumped in money. I appreciate his guts and love for films. His desire is not to buy a palace, but to make good films. The line he used to advertise the film -- 'Relish the film like a fresh cup of coffee' -- has done wonders for it. I would say Prakash Raj the producer intelligently used Prakash Raj the actor to market the film, and that was a great idea because people knew the kind of actor he was and the kind of films he believed in.
All commercial filmmakers say they will one day make a film that will satisfy the creative director in them. Do you also have such dreams?
I know everyone talks like that, but one can't even make even a commercial film without loving it. I have had satisfaction making all my films. When I am making films with stars, and with a producer's money, I have to think of commerce. But when I make a film with my own money, I will think differently.
I want to make a film on schoolteachers. Recently, we arranged an alumni meeting of our school batch. We invited all our teachers too. At the function, I noticed that while many students came in cars, bikes or autos, 10 out of 12 teachers travelled by bus and then walked to the venue -- the same way we saw them come to school years ago. Our prosperity is only because of them. As a tribute to all my gurus, I want to make a film on the lives of schoolteachers. They aren't teaching one or two students, but thousands. How many of us go back and thank them when we achieve something?
What kind of films do you see and appreciate?
One of the recent films I liked a lot was Cheran's Thavamai Thavamirundu. It is easy to shout, cry and laugh, but it is not easy to speak through silence. He achieved that successfully.