Advertisement
January 06, 2006 18:49 IST


Had there been an award for the worst comic act in Hindi cinema, I would have been glad to present it to Emraan Hashmi [Images].

After a slew of smooch-oholic movies, Emraan must have thought it's time for a break. And he does it with a lacklustre comedy that might even put an owl to sleep at night.

In case you are wondering, this is Producer N R Pachisia's so-called comedy Jawani Diwani [Images] we are talking about.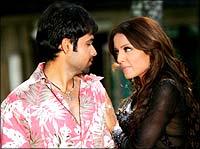 The movie -- which also stars Hrishita Bhatt [Images], Celina Jaitley and Mahesh Manjrekar -- falls flat with its stereotypical storyline and miserable performances.
Why scriptwriters cannot think of more innovative ways to get a boy and a girl together is a question that needs a thought or two. Meaningless songs and meaningless scenes make you -- the viewer -- yawn.
Talking about the viewers, if the response the film seems to have received at movie halls on the day of release is any indication, the producer and distributors better kiss their money goodbye.
Mann Kumar (Emraan) is an aspiring -- repeat aspiring -- singer about whose background we will never know anything. What we do know is that he does live in a well-furnished flat.
Tired of being rejected by music companies, he is on the verge of giving up hope when he is invited to music baron Umesh Jumani's (Tiku Talsania) bash. Wondering how a lousy struggler manages to secure an invite? Forget it, no point racking your brain.
Oh! I forgot to mention the key element! Apart from singing, Emraan's other passion is ogling at women. But then, that's not so out of the ordinary, is it?
So, in this party, he 'spots' Radha (Hrishita) who turns out to be Jumani's only daughter. Sensing that this is his big ticket to the music world, he sets out to win her. And win he does, courtesy a song and dance sequence.
So much so that Radha manages to convince her father that Mann is the one she should marry.
I hope I too can spot a father-in-law like Jumani, who will not even bother to find out the antecedents of the guy about to marry his daughter. I live in hope.
Coming back to the movie, to celebrate his achievement, Mann and his friends decide to go to Goa [Images]. It is here that our second actress makes an appearance.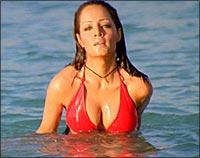 Roma (Celina) is Miss Goa (a fact that the you come to know much later in the movie, through a newspaper clipping) makes her entry doing the Bo Derek act.
Unlike in Jaanasheen -- where Ms Jaitley was playing the violin in a shimmering bikini -- she really looks hot in a flaming red two-piece.
But despite the sizzling entry and the hit under her belt (No Entry [Images]), Celina's performance in this movie leaves a lot to be desired. Her expressions would put a street performer to shame and her dialogue delivery reminds you of a kindergarten girl doing her first act in front of a packed audience.
Celina, you need to buckle up to survive among the Mallikas and the Bipashas.
Meanwhile, Mann is all over Roma (but naturally) and manages to woo her as well. Again, courtesy a song-and-dance sequence, albeit with a twist. The sequence lands them together in bed.
Next morning, our next character appears. Chappu Bhai (Manjarekar), the underworld don who looks more a clown than a don, is Roma's ex-lover. Roma never loved him but he was crazy about her. Upon finding Roma in bed with another man, he does what any don would do.
He gets them married.
What happens next is something only people like me, who are unfortunate enough to watch the entire movie, will know.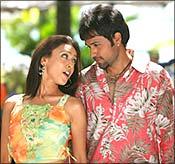 The director surely did not want the audience to leave the hall during the first half. So he packed the chunk of the songs in the second half. Not that there is much to see in the first half, mind you.
If you can fathom the double-meaning dialogues a la Kya Kool Hain Hum and Masti, then you might sit through the first half. For those who like skin show, you may even manage to sit through the second half. But for those who want to watch a good movie, sorry boss, this is a complete waste of time, money and patience.
To end the way Chappu Bhai mostly delivers his dialogues: Agar tum dekhne jaoge Jawani Diwani, kar aaoge barbaad apni chutti jaani.