January 03, 2006 19:29 IST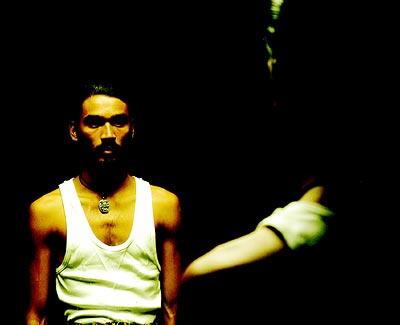 One movie eagerly awaited is Selvaraghavan's Pudupettai. Expectations are sky high after the huge successes of Kathal Kondein and 7G Rainbow Colony. The score by Yuvan Shankar Raja has been released and is simply outstanding. Another amazing feat pulled off by Yuvan and Selvaraghavan is managing to get Kamal Haasan [Images] to sing. The track, A Peek into an Assassin's life, rocks!
After having told the lives of people he knows, Selvaraghavan has moved into unfamiliar territory -- the Chennai underworld. Though not as extensive or powerful as the Mumbai underworld, it exists.
Pudupettai, the story of a man involved in murder, comes with the tag line 'Survival of the Fittest'. Dhanush, who has not had a hit for a long time, is the hero. In his undernourished, famished look, he looks extremely vulnerable in the film.
What Selvaraghavan wanted was to peep into the mind of an assassin. No other director, not even Balu Mahendra, has yet exploited the powerhouse of talent Dhanush has within him, as his brother has done.
The kind of expectations people, especially youngsters, have from Pudupettai is evident from a poll conducted by a Tamil magazine in campuses. Selvaraghavan is the most talented Tamil director, according to the poll, rated above Mani Ratnam and Shankar. Naturally, he is a very tense man these days. He says he would rather be a shepherd in Switzerland [Images], walking around with a herd of sheep with nothing to worry about!