Home > Movies > Bollywood News

Rewind 2005: Top albums of the year

Subhash K Jha | January 02, 2006 19:37 IST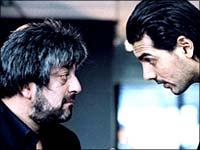 As always, the best weren't necessarily the bestsellers. Although the year remained sharply slumped for the music industry, there were bright spots throughout 2005. Here's looking at the creatively and commercially successful soundtrack of the year.
Zinda
Alive and ticking. At year-end, just when we thought we had heard and seen it all, came this shocker of a knocker. For Sanjay Gupta, Vishal-Shekhar designed songs that were anxious, energetic and emphatically punctuated by pain.
A remarkable album from a filmmaker who broke every musical rule in Kaante and Musafir. Throaty, husky and smouldering, the vocals rip a hole in your soul. This is crossover music at its coolest and most promising. Apparently, T-Series allowed Sanjay Gupta to do his own thing without interference.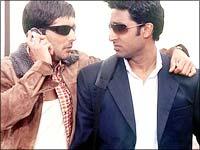 Dus
You didn't need Dus bahaane to like Vishal-Shekhar's tracks on this album of snazzy snap-and-crackle tunes. While Shaan and KK whooped it up in the chartbusting title song, it was the powerful music video with Abhishek and Zayed that did the trick. People simply got out of their seats and danced.
The audio sales were so high that they exceeded the film's box office revenues!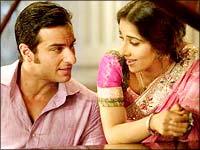 Parineeta
Shantanu Moitra's silken stab at old-world music conveyed a quaint, though hardly dynamic charm. The best part of the music was the delicacy of the arrangements. The melodies were passable, though not quite the volcanic curios they were expected to be.
Trust Sunidhi Chauhan to smoulder up the soundtrack with her seductive Kaisi paheli hai yeh zindagani.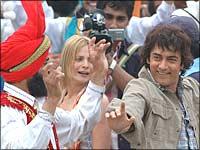 Rang De Basanti
After the disappointing Mangal Pandey, A R Rahman returned to form with this fabulously designed album of that offered a 'young' probing sound and outstanding lyrics by Prasoon Joshi.
From a mother missing her son (a historic coming together of Lata Mangeshkar and Rahman) in Lukka chuppi to the youth anthem Khalbali -- the score spanned a century of feelings.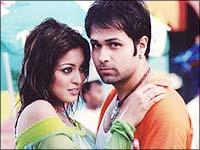 Aashiq Banaya Aapne
You can't keep this one out! Emraan Hashmi has all the luck in the world. The songs he sings on screen have a way of hitting home.
So what do we say about Himesh Reshammiya's nasal sufi-rock rendition of the title song that rocked the nation? Even the other tracks, namely Aapki kashish sarfaroshi hai and Marjawa mitjawa were chart-toppers.
Download Aashiq Banaya Aapne Ringtones
Kalyug
From Dil tadap tadap in Madhumati to Ustad Rahat Fateh Ali Khan's Jiya dhadak dhadak, the Kalyug track is probably the best dhadak-dhadak song of the year. Its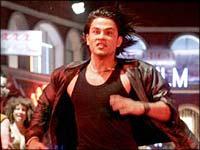 romantic appeal was so earthy and raw as to provide a counterpoint to Himesh's Aashiq Banaya Aapne.
This one track alone afforded a world-view into traditional sufi sounds as they should, and must, sound in the present day and age.
You've Stolen My Heart
The US-based Kronos Quartet got together with Asha Bhosle to work on some of R D Burman's choicest chants. And boy, did they kick up a storm!


What do you think about the story?








Read what others have to say:





Number of User Comments: 5








Sub: What Nonsence

Where is BNB , Kaal , Lucky and Zeher i think who ever has given this was drinkin!!!!!


Posted by Shafqat









Sub: u forgot many !!!!

what the hell happaned to other hits zeher and bunty aur babli? among the less selling albums u should hv mentioned shabd.


Posted by adarsh









Sub: Blatant plagarism

A virtually identical article is posted on timesofindia.com. The same article...on two different and unrelated websites? This is a clear and serious case of plagarism, ...


Posted by Charles









Sub: Is this list complete....................na na na

Well i think this list isnt complete since it has omitted some great albums which hit the screen this year..... Bunty aur bubbly Neal n ...


Posted by nhiren









Sub: This article is incomplete!!

Where is Bunty Aur Babli?? Have the writers forgotten 'Kajra Re'?


Posted by dushi






Disclaimer