Home > Movies > Reviews

Humko Tumse Pyaar Hai: Predictable

Priyanka Jain | February 24, 2006 21:59 IST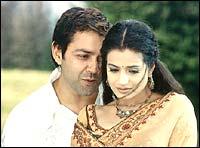 A rustic setting with lots of colour, coupled with a love triangle, ought to make for good viewing. A short trip to another world, if nothing else. Sadly, Humko Tumse Pyaar Hai has little to offer. There is a short negative role essayed by a villain called Rana (Parmeet Sethi), and a few romance sequences presented in a refreshingly original manner. But, nothing else.
The film is set in a small village in Rajasthan. Considering it happens to be my hometown, I can safely say that there are no villages like this one in the entire state. Village girls do not trust strangers easily, let alone fall in love with them. But Durga (Amisha Patel), the heroine, is different.
Do you adore Amisha Patel? Wanna join the Amisha Patel Fans Discussion Group. Discuss with new friends your passion for the sexy star!
| | |
| --- | --- |
| | More on rediff.com! |
| | |
It all begins with her slashing her wrists. She doesn't die, obviously, and is saved just in time by a doctor. When asked about why she did it, she begins to tell him, and the audience, her story. It's a rather contrived one, about early, happy days as a potter before a knight in shining armour called Rohit (Arjun Rampal) rides in on a jeep to save her from a difficult situation. Impressed by Durga's art and beauty, love is inevitable. Even her mother (Suhasini Mulay) agrees.

All is well until, of course, the villain arrives.

Enter Dubai-returned village goon Rana (Sethi), who comes with a proposal for Durga. Faced with rejection, he attempts to outrage her modesty, but she is rescued by her mother. When Rana finds out about the romance brewing, he plans to kill Rohit. Meanwhile, Durga's mother dies in an accident. She continues living in the same house, which catches fire. Again – and for the third time, please note – Durga is rescued, once more by Rohit.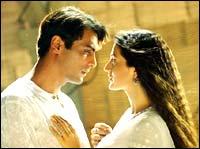 To tell you what happens next would be a bit of a spoiler. But only a bit. Suffice to say there's an operation, another accident and a rather predictable twist in the tale that enables Raj (Bobby Deol) to step into the frame.
Patel plays her usual tragic self, crying at the drop of a hat, while Bobby and Arjun aren't enough eye candy. The music is unimpressive, with Anand Raaj Anand failing to deliver. Amisha's costumes deserve a round of applause, even though they don't fit in with her character of poor village damsel at all.
I didn't expect much anyway, knowing this was a Vikram Bhatt film. Should you risk watching it? Only if you aren't tired of typical Bollywood escapist fare yet.
Want to see this movie? Check out Rediff Movie Tickets!


What do you think about the story?








Read what others have to say:





Number of User Comments: 1








Sub: HTPH

this movi is a good movi & i like acting of amishs & she is a good actress. i fan this actress


Posted by abdul






Disclaimer