Home > Movies > Bollywood News

Meet Nana Patekar, the chef

Priyanka Jain | February 22, 2006 16:23 IST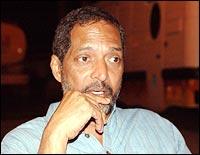 He might be famous for playing cold, ruthless and tough characters on screen, but in real life Nana Patekar is one of the most warm-hearted people in Bollywood.
Just ask his co-stars. 
"He is eccentric and difficult. But that's what makes him even more interesting," says Milan Luthria, who directed Nana in this Friday's release, Taxi No 9 2 11.
"Ramesh (Sippy) and I were once invited to Nana's house, and he had cooked a fabulous meal for us. I still remember the taste of the Maharashtrian Mutton Curry that he had prepared for us. I can't remember when I had eaten so much last!" the director adds. 
| | |
| --- | --- |
| | More on rediff.com! |
| | |
"I find it difficult to believe that Nana Patekar cooks. He never brought anything for me or invited me to eat," quips Sonali Kulkarni, who plays Nana's wife in Taxi... 

"But he would get a dabba (lunch box) from home. He told us that his mother prepares it for him. Once I had brought Poha for everyone on the sets, and his smart assistant kept the dabba," Sonali adds, smiling.

Jokes apart, she is all praise for Nana. "He is an amazing actor to work with if you know how to handle him tactfully. There is a lot I have learnt from him on the sets. He and Milan made sure we did in-depth rehearsals before the shots. That made all the difference. Sometimes one gets a little nervous in front of him, but that's just an initial phase."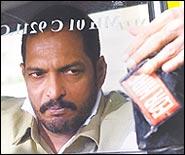 Former movie actress and theatre personality Ayesha Jhulka worked with Nana Patekar in the play Purush. She says, "During the rehearsals, Nana would prepare food for the whole unit. It was a revelation when he did it for the first time. We did not know that he cooked the food. He just took a break from the rehearsals and said he would be back in a while. When he returned, there was a spread of Keema, Bheja Fry and Biryani for the entire crew. It was the most delicious meal we had!"
"Even after he gained popularity, Nana's lifestyle did not change," Jhulka says about the man who confessed on his blog that he goes back to his village after the completion of a film. 
"He would still meet his old friends at a bar in Mahim (a middle class Mumbai locality). He would bring his mother at some film shoots, and put part of his paycheque in the Prime Minister's (Relief) Fund. And he hasn't changed much," she adds.
Patekar, 55, has played a wide variety of roles -- from underworld don to a deaf and dumb father. And Taxi No 9 2 11 sees him take on another challenging persona.
"Nana Patekar's role is that of a short-tempered, cynical man. But Raghu Shastri (the name of Patekar's character) is also a caustic and instinctively witty cabbie who meets Jai Mittal (John Abraham). Raghu does not care for society's rules. The chemistry that Nana and John share in the movie is worth watching," Luthria says.


What do you think about the story?








Read what others have to say:





Number of User Comments: 4








Sub: a fan wants to contact you

hi, i am your fan, i watched your almost all movies, i am watching your films since childhood, i want to meet you.actually iwant to ...


Posted by MUHAMMAD IMRAN SAJID









Sub: meet Nana in Blackpool (U.K.)

Dear Nana, Ram Ram I am Anil Bhagwat proper dist. Beed pin 431122 (maharashtra) now I am living in UK with my family. Nana I ...


Posted by Anil Bhagwat









Sub: TAXI IS OVERALL WORTH TO WATCH

movie achieves its message conveyed fied wih entertainment and great soundtrack. action which is not vulgar but briliant . nana is simply good actor . ...


Posted by SACHIN RANE









Sub: would like to talk to nana

hi nana patekar if u read this mail u might feel it strange but i wana meet u for making a movie on the play ...


Posted by sanket upasani






Disclaimer