Home > Movies > Message Board

February 22, 2006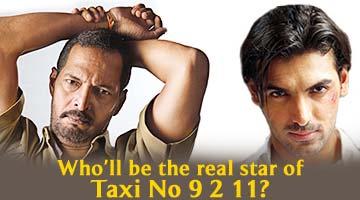 Milan Luthria's Taxi No 9 2 1 1 seems to be an unusual film, with an interesting cast.
It has got the hunky John Abraham, trying to do a Tom Cruise in Collateral.
And it has also got Nana Patekar, looking very cool rapping in the film's music video.
Which of these actors are you looking forward to watching in Taxi No 9 2 1 1? Who do you think will steal the show -- John or Nana? Tell us!


What do you think about the story?








Read what others have to say:





Number of User Comments: 65








Sub: comments

hey guys u have done terrific job ethics and values the younger generation is reminded.no values no ethics no one can be good human beings. ...


Posted by sunitha









Sub: Taxi 9211

Its director Milan Luthria is the real hero who has selected very right acteors for his movies NANA & John. NANA is the Best & ...


Posted by Sandeep Daware









Sub: finally no running around trees

any script, movie, by karan johar, subash ghai etc. the old running around the trees, or the modern lovey dovey stupid song and dance movies ...


Posted by rayker









Sub: my message

it was a super boaring story.


Posted by manoj









Sub: About Taxi No.9 2 11

Nana patekar and John is the best in this film. sonali kulkarni is so so. Overall the film is best. i will suerly see this ...


Posted by Reshma






Disclaimer