Home > Movies > Bollywood News

Sonali Kulkarni: Sexiest housewife?

Priyanka Jain | February 21, 2006 20:25 IST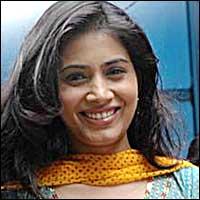 "I am the driving force of Taxi No 9 2 11," says Sonali Kulkarni, when quizzed about her role in the film. Dressed in a funky orange spaghetti strap kurta, the actress appears quite at ease while chatting with us.
Pix: John and Nana's Taxi 9211
"I play a completely sensuous wife. The whole world is going to feel like marrying me -- I can bet on that. Every man who watches the film will wish for a wife like that," she adds. Her character Sarita is a Maharashtrian lady married to Raghav Shastri or Raghu (Nana Patekar) who plays a taxi driver. The film is supposed to be an action-packed humorous thriller.
Sarita loves her husband but isn't a lovey-dovey wife. She is very practical and tells her husband to leave his ego behind and respect traffic rules. Was it difficult working with Patekar? "He comes up with a lot of suggestions. It was a fortunate experience for me," she says. "He drives everybody crazy. He compels everybody to be there in the film, in that moment. He is a co-actor who is fully there to help you. He is such a brilliant actor himself."
She remembers an incident -- a crucial scene in the film -- where husband and wife have a prolonged fight. "It could have become monotonous, but it has come out with many flavours. We shot the whole scene in one go and there wasn't a single retake." Apparently, there was a lot of improvisation on the sets, which added a lot of colour to the final product.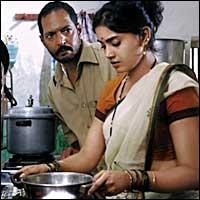 When asked about her experience with the other actors, Sonali says, "They are all nice. John (Abraham) is adorable. He doesn't carry the baggage of his good looks and is absolutely chilled out. Sameera (Reddy) and I don't have a scene together, so we only shared space on a photo shoot."
About director Milan Luthria, she says, "Even if I am the driving force, Milan has the key to the taxi. It was his narration that made me do the film. I look a lot younger than Nana, so they were not too sure if we would make a good couple. But the industry is opening up a bit these days, and they are trying various combinations. Milan understands an actor's problems when it comes to delivering a particular emotion. He comes up with solutions."
Considering she plays a taxi driver's wife, does she drive? "In my earlier days, I used to travel by train. Then came a bicycle, followed by a two-wheeler and my first Maruti 800. Now, when I drive a Toyota Corolla, I feel a great sense of achievement."
The actress is currently awaiting the release of Taxi. She is working with Suniel Shetty and Rajpal Yadav on Ram Gopal Varma's Darna Zaroori Hai. Then, there is Kaaran, directed by debutant Manoj Gaikwad and starring Deepti Naval, Seema Biswas and Benjamin Gilani. Kulkarni is also doing M F Husain's biographical film.
What kind of roles do you want to do, we ask, finally. "I want to dance a lot," she replies, "and I want to do the comedy bit. I want to work with Salman Khan, Saif, Priyadarshan and David Dhavan. I want to work opposite Hrithik Roshan as his lead actress. I have played his mother once, but I would like to romance him on screen."


What do you think about the story?








Read what others have to say:





Number of User Comments: 2








Sub: Very good article

I found this article as a good one.


Posted by Sachin









Sub: beautyful girl

hi beautyful iam ashish. you are looking very nice in house wife roll.goodluck for your career ashish ...


Posted by ashish






Disclaimer