Home > Movies > Reviews

Weekend Watch

Sukanya Verma | February 17, 2006 15:30 IST



Take the chill pill with films we recommend to spice up your weekend.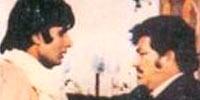 Yaarana
(Hindi)

Cast
: Amitabh Bachchan, Amjad Khan, Neetu Singh, Tanuja, Ranjeet.
Director
: Rakesh Kumar.
Kachcha papad, pucca papad! Quite a tongue twister, isn't it? Watch how Amitabh says it!
Released in 1981, this evergreen entertainer revolves around childhood best friends – Kishan, the poor (Bachchan) and Bishan, the affluent (Amjad Khan, in a Filmfare Award-winning role for Best Supporting Actor).
| | |
| --- | --- |
| | More on rediff.com! |
| | |
Bishan, now the captain of a ship, realises Kishen's voice is a gold mine.
He resolves to make a pop star out of his timid buddy and get him to the city. There on begin a series of hilarious episodes involving the village simpleton undergoing the My Fair Lady treatment.
In true Hindi film fashion, the underdog hits superstardom and also finds oodles of love in city girl Komal (Neetu Singh). A twist in the plot has Kishan fighting to save the day and his best mate from disaster.


What makes Yaarana enjoyable? Rakesh Roshan's mellifluous soundtrack (Choo kar mere man ko, Saara zamana, Tere jaisa yaar, Bhole o bhole), Big B's brand of tomfoolery, his dramatic camaraderie with Amjad Khan and his cute chemistry with Neetu Singh.
Not to forget him doing his brand of stage dancing in the unique black bodysuit fitted with a thousand bulbs. Also, how can you forget the spectacular hang-gliding sequence?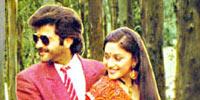 Ram Lakhan (Hindi)
Cast
: Raakhee, Jackie Shroff, Anil Kapoor, Dimple Kapadia, Madhuri Dixit, Anupam Kher and Amrish Puri.
Director
: Subhash Ghai.
Over the top and unabashedly entertaining, Subhash Ghai was on the top of the game in this garam masala of the Eighties!
Romance, comedy, action, drama, Ram Lakhan is a splashing cocktail of every genre.

After her husband is brutally killed over property issues by his cousin Bhishambar Nath (Amrish Puri), Sharda Pratap Singh (Raakhee) raises her two sons single-handedly to become brave cops. If Ram (Shroff) is sombre and virtuous, Lakhan (Kapoor) is playful and temperamental.
Both of them want to avenge their father's death. But their modus operandi, which is starkly different, causes a rift between the brothers. Will internal conflicts in the family be conquered to fight the ultimate bad guy? That's Ram Lakhan for you!

Despite it's evidently intense story line, Ghai never allowed the mood to get too heavy. Villainous caricatures on the evil side's den (Gulshan Grover, Paresh Rawal, Raza Murad, Anand Balraj) and comical buffoons on the hero's side (Kher, Satish Kaushik) ensured the amusement quota.
Jaggu Dada and A K's cozy onscreen brotherhood didn't slip any hints of bubbling off-screen rivalry. Ram Lakhan also reintroduced the public to the magic of Madhuri Dixit. Laxmikant Pyarelal scored some lively chartbusters like My name is Lakhan and O Ramji; Ashok Mehta's camera work was splendid.

A multistarrer that never fails to interest, unlike Ghai's subsequent biggies.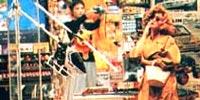 Chungking Express (Chinese)
Cast
: Takeshi Kaneshiro, Tony Leung, Faye Wong, Brigitte Lin and Valerie Chow.
Director
: Wong Kar-wai.
Wong Kar-wai's films are like poetry. They allow you to have their own interpretation.
This one is about two lonely cops. Cop number 223 (Takeshi Kaneshiro) is obsessed with canned pineapples and their expiry dates. Cop number 663 (Tony Leung) makes conversation with soap bars and mopping cloth. The reason: They were unlucky in love.
During this phase, which is the only phase we see them in, they'll bump into two eccentric ladies with peculiar hairdos.

The femme fatales have their own image to live up to, respectively. One (played by Brigitte Lin) is a drug trafficker who spends the entire day gunning down a bunch of deceiving subordinates. The other (Faye Wong) is a quirky fast food joint attendant perennially dancing or breaking into Cop 223's messy apartment to give it a face-lift.

Nifty voiceovers in these two parallel tales leave no place for a single dull moment in the 100 minutes of the film (it was reportedly shot in 23 days).
Purely episodic and humorous, Chunking zip, zap, zooms from one scene to another with the enthusiasm of a roller-coaster, leaving the viewer awestruck.
The screenplay is vividly inventive and wryly comic. 'It was such a relief when I saw it crying. It may look different, but it's still true to itself. It's still an emotionally charged towel,' rambles Leung's character.
Besides containing some brilliant one-liners, Chungking Express is essentially about loneliness.

I have no words worthy enough to describe the film's spellbinding camera work and swift editing, which accelerates the pace to a breath-taking level. And the bizarrely beautiful climax – two of them, actually -- is in all probability one (or should I say two) of the bests.

There's something so powerful in Chungking Express's outward simplicity that you will need multiple viewings to uncover the strength of it's incongruously placed layers.
Want to see this movie? Check out Rediff Movie Tickets!