Home > Movies > Reviews

Faltu lead pair spoils great story

Srabanti Chakrabarti | February 17, 2006 14:31 IST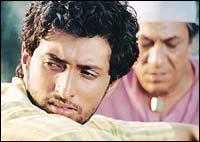 Any film – be it mainstream or parallel – owes its success or failures to three pillars: The storyline, the direction and the actors. While Faltu scores on the first two, the lead pair is weak enough to bring the film down to levels of mediocrity.
Based on celebrated Bengali author Syed Mustafa Siraj's novel – Ranirghater Brittanto – Faltu is the latest from the Arindam Chaudhuri stable.
This is Chaudhuri's Planman Motion Pictures' second foray into Bengali movies, after the success of their earlier Bengali film Sanjhbatir Roopkathara won accolades all over the world.
Unfortunately, Faltu might not be able to repeat history.
| | |
| --- | --- |
| | More on rediff.com! |
| | |
Set in the backdrop of Mushirdabad district in West Bengal in the early 1950s, this is the story of an 18-year-old boy called Faltu (played by Arindam's protégé Yash Pandit) and his quest for love and search for roots. This is also the story of a village and its people, woven around a narrative with myriad moments and a lot of dramatic events.

Ranirghat is a not-so-developed village people mainly by refugees from Bangladesh. The lives of the villagers take a new turn when a census official questions Faltu's parentage. While it is a well-known fact that Faltu is the son of Suri Khepi (a mad woman played to perfection by Indrani Haldar), no one knows who his father is. Neither does Faltu know, nor did he care to all this while. He was happy with what he was doing – driving a bus and ferrying villagers from one bank of the river to the other.

The census official's question opens a Pandora's box.

It turns out that almost everyone in the village -- including Ismail (Biplab Chatterjee), who brought up Faltu and taught him driving -- took their turns to rape Suri Khepi, taking advantage of her mental condition.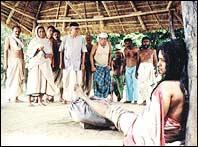 Things reach a stage where everybody knows that Faltu's father is one of them, but nobody is sure of who that is. Faltu is not particularly bothered though. He is more interested in earning his living, and pursuing his love interest – Tuktuki (played by Manjari Fadnis).
A government order brings in bad news for the villagers of Ranirghat. As part of development plans, the government wants to construct a bridge across the river and wants the villagers to vacate the village.
They agree to do so, but before parting ways, they want Faltu and Tuktuki to get married – to make up for what they had done to Suri Khepi. A guilty feeling of raping Suri Khepi haunts almost every single male in the village. That is when a twist in the tale ensures Faltu and Tuktuki don't get married.
The entire story deals with human relations and how the guilt of having done something wrong haunts everyone in the village. They want to make up for their sins, but end up opening a new can of worms and spoiling a marriage.
The storyline is not just fascinating but leaves you with a long list of questions on human relations and desires. And Anjan Das does a good job of narrating the story in his simple and relaxed fashion.
The supporting cast consisting Indrani Haldar, Soumitra Chatterjee (playing the role of a sculptor, one of the few villagers who did not rape Suri Khepi), Pradip Mukherjee (Tuktuki's father) is pretty good. But what brings down the film is the lead pair of Yash Pandit and Manjiri Fadnis (both protégés of Planman).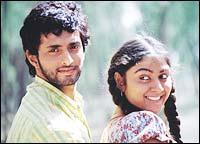 Both of them fail to portray the character and body language and diction expected from a 1950s rural Bengali couple and end up looking very fake.
Shot entirely in Murshidabad, the film offers very soothing visuals, thanks to Shirsho Roy's cinematography, and equally soothing music courtesy Jyothishka Dasgupta.
On the whole, a watchable film just for the storyline, if you can ignore the lead pair's histrionics. Maybe Arindam Chaudhuri should do a causal analysis on why he selected the lead pair that he did for Faltu!
Want to see this movie? Check out Rediff Movie Tickets!