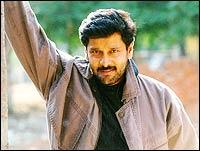 While other states in India are declaring film awards for 2005, Tamil Nadu recently announced awards for 2003 and 2004. The state is yet to announce awards for 2005!
Vikram won the 2004 National Award for his performance in Pithamahan. It is only now, however, that the Tamil Nadu state government decided to honour him with the Best Actor award for his performance in a film released two years ago. Vikram and Laila won Best Actor and Actress awards respectively, for their performances in Pithamahan. Eeranilam, directed by Bharatiraja, took home the Best Film award, with the Best Director prize going to Karu Pazhaniappan for Parthipan kanavu.
'Jayam' Ravi won the Best Actor award for 2004 for his role in M.Kumaran s/o Mahalakshmi. Jyothika was selected Best Actress for Perazhakan. Autograph was the best film of 2004, and Cheran, its director, the Best Director.
If Harris Jayaraj is 2003's Best Music Director for his unconventional songs in Kaakha Kaakha, Srikanth Deva won the same award for M Kumaran for 2004.
While Autograph won the Best Tamil Film award at the national level for 2004 and won the same award at the state level as well, the film that won Best Tamil Film in 2003 nationally, Iyarkkai, could only manage the Best Cinematography Award at the state level.
The awards will be presented by Chief Minister of Tamil Nadu, J Jayalalitha on February 23.