Home > Movies > Reviews

Taxi No 9 2 11 lacks attitude!

Sukanya Verma | February 06, 2006 13:43 IST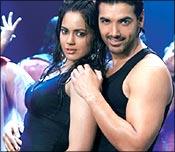 Another day. Another movie. Whose remake is this anyway? With originality reaching extinction point, guessing the root inspiration of a rehash seems like a fun thing to do.
The plot 'n' promo of Taxi No 9 2 11 suggest this could be desi mix 'n' match of Changing Lanes and Collateral. I would love to be wrong though.
Starring Nana Patekar and John Abraham as two fast-talking men coping with life's rush hour, Taxi No 9 2 11 is another racy caper from the makers of Bluffmaster (producers Ramesh and Rohan Sippy) and is directed by Milan Luthria (Kachche Daaghe, Deewar: Lets Bring Our Heroes Home). Sonali Kulkarni and Sameera Reddy play the respective love interests.
John and Nana's Taxi 9 2 11
| | |
| --- | --- |
| | More on rediff.com! |
| | |
The currently in-demand music director duo, Vishal-Shekhar are behind the score. Taxi may have an integral place in the film's title and plot, but the album doesn't bear a single jhankaar beatish bone in its body.
It's always good to hear Bappi Lahiri do his bit! Here the singer pays ode to the city of dreams. Laid in philosophy and incorporated with cocky exchanges of Taxi's lead protagonists, Boombai nagariya – Living in the city is flamboyant but merry. Not wanting to be left out, composer Vishal Dadlani joins Bappida on the lively track. The Club Mix of the same underplays the singing and targets the swinging nature of its beats.
A breezy discussion on love at first sight in rhythmic hip-hop fashion ensues in Ek nazar. Thanks to K K and Sunidhi Chauhan's peachy rendition, this one is fairly charming.
Can you imagine Adnan Sami taking off on Eminem's Just lose it? Inconceivable? You got to hear Meter down to believe. The singer reinvents himself here to an impressive effect. This one's designed as a promotional song, along the lines of Bluffmaster's Right here right now. Fascinating and foot tapping, Meter down promises to put up quite a show. It also has a Rock 'n' Roll version with renewed charge and go.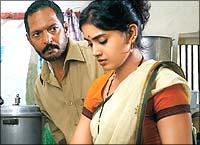 Shekhar Rajviani's rapturous singing sends foot-tapping vibes across the living room in the lilting Aazmale aazmale.
It starts out like a Coldplay number only to veer into distinctive Vishal Shekhar terrain. A soft rock serenade, Bekhudi trills with romance and Shaan's marshmallow vocals.
You can trust Kunal Ganjawala to infuse his trademark peppy in the blandest of compositions. Here too, along with Harshdeep, he lends his vivacity to the fullest but the result is surprisingly lukewarm. Udne do isn't exactly insipid but doesn't have that extra something that demarcates 'okay' from 'wow'.
If you are expecting another Bluffmaster, do an about turn. The soundtrack of Taxi No 9 2 11 doesn't have the wayward attitude or a chic sound. It's cordial and harmless but never in the same vicinity as wicked or kick ass!
Want to see this movie? Check out Rediff Movie Tickets!


What do you think about the story?








Read what others have to say:





Number of User Comments: 3








Sub: Sukanya

Sukanya please get out of Abhishek & Bluffmaster hangover , because it's one too many that you've been getting wrong , starting with Rang De ...


Posted by Sunil









Sub: Movie or Music Review?

The article starts off looking like it's a review of the movie. I presume Sukanya is reviewing the music. Confusing!


Posted by Praveen









Sub: Hey

Hi I love JOHN ABRAHAM, and I am desperately waiting for the film Taxi 9 2 11 to come out. Hopefully the public will love ...


Posted by yingchuk






Disclaimer