December 29, 2006 15:20 IST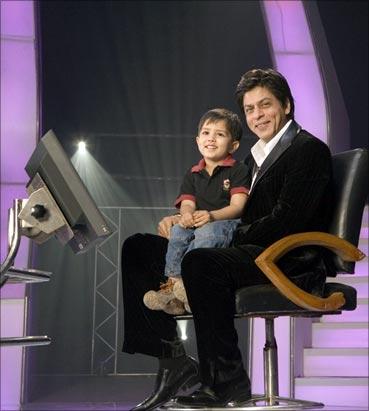 It's time to make the seat hotter.
Star TV is pulling out all the stops to maximise viewer interest for its new version of Kaun Banega Crorepati, starring Shah Rukh Khan [Images].
Images: Shah Rukh gets ready for KBC
After a teaser campaign revolving around how some questions can change a person's world, the channel launches the first full-fledged advertisement for the new show on Friday, December 29.
And what a mammoth advertisement it is. Clocking in at a tremendous 130 seconds, the theme film centres around a little kid, played by four-year old Shrey Bawa, pictured here on Khan's lap.
Growing up in Delhi, the child annoys everyone around him as he grows up constantly asking questions. His world is fed up and he leaves the capital behind in his search for answers.
His destination, Mumbai, gives our hero a whole new set of questions. But this time, he's on the receiving end as the city bombards him with queries.
Finally, we realise life has come full circle as the young boy has finally reached a place where he gets to ask all the questions. Enter King Khan [Images], the new Kaun Banega Crorepati host.
SRK [Images] starts his Kaun Banega Crorepati on January 22 at 9 pm, Monday to Thursday on Star Plus.