Home > Movies > Reviews

Kabul Express: Flawed, but thought-provoking

H S Bunty | December 15, 2006 19:49 IST



George Romero's Night Of The Living Dead ended with the scariest scene of all -- human beings have won the battle against zombies and are now rounding them up like mad dogs, shooting them in the head and burning them on a pile of dead bodies.

It was a fictional horror film.

There is a scene in Kabir Khan's directorial debut, Kabul Express, which is actually taken from real life -- Afghans who have suffered under the Taliban regime rounding up Taliban members and beating them to death.

Kabul Express is not a documentary, but a tale to show the current scenario of Afghanistan post-9/11, post Pakistan abandoning them.

John Abraham plays a journalist and Arshad Warsi is his cameraman. They land up in Afghanistan for a story and end up being taken hostage -- along with their Afghan driver and an American journalist -- by an escaping Pakistani Colonel who was a Taliban member.

Kabul Express works in parts. Each visual depicts the tragedy of a spectacle called Afghanistan. Each scene is also accompanied by a killer line by Arshad. John really doesn't have much to do or say in the film and is treated purely as eye-candy, much like his female counterpart, the American journalist, Linda Arsenio.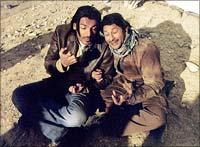 Kabir, thankfully, doesn't take sides and gives due blame to bring the current situation to light. America is named as the reason for every ruin you see in the film. The most interesting conversation takes place on the run -- when Coke-Pepsi, Madhuri Dixit, Kashmir and America are all tied up.
You cannot stop laughing and being pissed at the irony of it all -- that in the end all these wars are about digging up oil and selling Pepsi and Coke.
Kabul Express suffers from poor characterisation of John and Linda. At times, you squirm in your seat as they have no real connection to the story. But then having John in a film helps market it so that the film opens to houseful boards. That isn't really a strategy you can find fault with -- the reason a film likes this ends up being green-lighted is for the star power behind it.
Yash Raj Films decides to experiment with Kabul Express, a song-less film. Technically, every department is top notch. As an actor, Arshad steals the show. Salman Shahid and Hanif Humghum are also very good.
Kabul Express is a good-looking film but it refuses to get its hands dirty. Instead of having a gritty and rugged feel, it is too spic and span. Technical finesse is one thing, but in these rugged terrains, the feel should be more like the look of a commercial film like Black Hawk Down to get the viewer more involved. Kabul Express should have had the look of Omkara.
Also, one wonders why two journalists would land up in Afghanistan without a guide or any contact or be unable to find a shutterbug in a country overflowing with photojournalists.
However, what makes it hard to quibble about Kabul Express is that the film works on many levels. It's the first Indian film to show a true picture of Afghanistan. It shows the plight of Pakistanis caught on the other side after their country was forced to change allegiances by America. It is a film which makes you ponder on a picture postcard country ruined by a capitalist monster running amok worldwide.
The scariest scene in the movie is when the Pakistani soldier talks about the deception of America, mirrored by his colleagues at the Pakistani border that has been sealed off. The scene makes you think that Pakistan and America have been the best of friends. Today if this is the state of Pakistan, what about India?
We are going to bed with a monster with no heart. Are the ruins of Afghanistan a mirror to the future ruins of a country called Pakistan? A country called India?
Are we just fuel pumps on a global map selling oil and Coke?
Kabir Khan has told a story from his heart, and what is important is that his heart is in the right place.
Rediff Rating:

Want to see this movie? Check out Rediff Movie Tickets!



What do you think about the story?








Read what others have to say:





Number of User Comments: 60








Sub: kabul express

hi all veiwers... dont go and see kabul express. its a total waste of money..with a message that u can read sitting at home. regards ...


Posted by manmohit









Sub: kabull 2 good

nice one


Posted by jit









Sub: Kabul Express............

Hi people, Kabul Express............is a waste of time & money.........SO PLZ REFRAIN from it......... THANKS


Posted by xdczx









Sub: john

up to today i am not able to see the movie, but i think it wiil satisfied me to some extent. and i think john ...


Posted by lingaraj sahoo









Sub: Awesome movie

Great movie -- arshad was really gud and so was John.. it\\\\\\\'s really nice to see bollywood going thru this transition where people are willing ...


Posted by nikita






Disclaimer