Advertisement
December 13, 2006 15:26 IST
Actor-politician Raj Babbar remembers his wife Smita Patil on the legendary actress' 20th death anniversary.

Whenever someone asks me to talk about Smita Patil, I become emotional and her whole life comes alive in front of my eyes. Every little thing she said or did, and how she looked at me when she first met me... And when the time came for her to say goodbye to the world.

I met her for the first time in Rourkela in Orissa, where we had gone to shoot Satish Misra's film Bheegi Palken. Our first meeting ended in a sort of clash -- a sweet clash that laid the foundation of a relationship later.

She was there with her assistant. I was impressed by her from the word go. She did not seem to care about people around her, and refused to acknowledge the presence of many. I would say that she was a bit mizaazwali (this is being said with all the respect and humility towards her). But that was the impression I got from our first meeting on the sets.

She went back to her room in the dak bungalow where the entire team was staying. When she made her second appearance at dinner, she was engrossed in reading a book as she ate. We politely asked her if our presence was hindering her, and if so we could retreat so she could eat in peace. She folded the book and ate, and then went back to her room, while the whole unit joked and laughed till well past midnight.

When some members of the unit wished her good morning the next day, she said 'So you remember how to treat others as well.' I asked her if she had had a good night's sleep, but she chose to ignore my comment.

On the third day we went to the interiors for shooting a kasba scene and the whole thing began with a flashback. She was simply brilliant in her performance. I said to Satish Misra, 'Yaar, kaisi heroine hai har samaye billi ki tarah panja marne ko baithi rehati hai' ('Man, what kind of a heroine is this? Always ready to lash out with her claws'). I said it loudly with action, so she could hear it. For a change she did not react.

One thing I must say that she was not fussy about the food or how it was cooked. She would eat even boiled bhindi with boiled rice -- which even the workers refused to eat.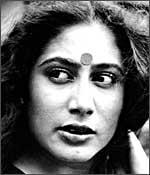 Sitting on a chair under the shade of a tree during the hot summer afternoon, I went off to sleep. My hair was giving me persistent trouble. I do not know when she arrived there, but she suddenly put her hand on my shoulder and said, 'Please put this bob-pin in your hair,' did that and went back.
When the shot was ready, I went to the sets. A worker came to me and said, 'Madam wants you to return her bob-pin.' I was a bit startled. I saw her smiling as I removed the hairpin.

On the fifth day, we had a rebellion in our unit. The workers were demanding better quality food. She was furious and told them she was going to eat the red rice they were served. Quickly the whole rebellion ended and everyone fell in line.

She was a great human being. We never had enough time to plan things for our son Prateek. I guess he will be doing films shortly. He is already getting calls from various producers and directors. I have given him a free hand to do that. I wish she were around to see her son growing.

The most painful moments of life are those which come unexpected. One fine evening, when I was getting ready to go for a function I saw her quivering. I touched her and found that she had a fever. I called the doctor and he told me that she needs immediate hospitalisation. I took her to hospital and she was being removed to the intensive care unit.
Thoughout the journey from home to hospital, she kept apologising and I told her that everything would be okay. She looked at me with tears in her eyes. Her look said it all. The doctor came out after an hour and said she had gone into a coma.

I was part of her and she was part of me. It is natural that you miss a person who was your heart and soul throughout your life, no matter how brave you may say you are. She and her memories will continue to be part of me till my last day.

As told to Onkar Singh