Home > Movies > First Look

Don music: Snazzy, good mix



Look who's back! 27 years after he first made an appearance, the Don returns with a new face, body and attitude.

The first one featured Amitabh Bachchan in the title avatar. Directed by Chandra Barot, it co-starred Zeenat Aman and Helen. The jazzed up remake, under Farhan Akhtar's direction, stars Shah Rukh Khan as the Big D. Giving him company are Arjun Rampal and a bevy of beauties -- Priyanka Chopra, Kareena Kapoor and Isha Kopikkar.

What about the music?

The inventive troika of Shankar, Ehsaan and Loy step into Kalyanji-Anandji's shoes to dish out a mix of funky originals, inspired remixes and a bunch of hip instrumentals.

The album kickstarts with Main Hoon Don, which is one swanky BMW of a song. Be warned though, this is an all-new track and bears no resemblance to its bouncy predecessor of the same name. Its Matrix-inspired twisted tunes suggest a hint of rave, techno, industrial rock and new age. Fortunately, it's not a case of all noise, no melody. Shaan does a credible job behind the microphone, but a heavier baritone would do more justice to the high drama enveloping this number.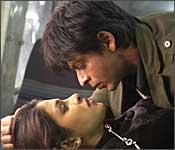 The 'Funcinternational mix' of the track is pumped up with advanced doses of electronica, resulting in an ideal nightclub concoction. 

Yeh Mera Dil starts off loyally, but betrays the original altogether with its technophile arrangement and extravagant beats. Truth be told, this piece filmed on Kareena Kapoor is a complete letdown. Lacking charisma and mystery, forget holding a candle to the Kalyanji-Anandji classic, it doesn't even stand as a rocking remix. The usually confident Sunidhi Chauhan appears to be conscious of inevitable comparisons to Asha Bhosle's version of the same. Hopefully, Bebo's glamorous moves on-screen will prove to be distracting enough.

If you are a purist, Khaike Paan Banaraswala is unlikely to impress you. To Javed Akhtar and the composers' credit, they incorporate a few changes to the oldie with an orchestra and SRK's special appearance. The actor breaks into an impromptu limerick. Good gimmick, but not interactive enough. Though entertaining and effectively rendered by Udit Narayan, Khaike doesn't have the rawness or unstoppable enthusiasm of the original Kishore Kumar superhit.

In comparison, the Shankar-Ehsaan-Loy original, Aaj Ki Raat is quite the charmer. Trendily 1970s in flavour, it echoes the swinging effect of westernised compositions from that decade. Alisha Chinoy, Mahalaxmi and Sonu Nigam infuse an aura of biting suspense and wicked fun into this snazzy creation.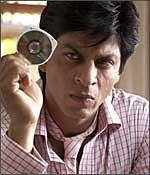 The timing of Mourya Re couldn't have been any better, what with the ongoing Ganesh Maha Utsav festivities. A fairly ebullient track, it gives SRK a chance to show reverence and respect towards Lord Ganesha in his own filmi style.

Don-The Theme and Don Revisited draw on the background strain, lending it new dimensions with a slick, stylish arrangement. Interspersed with memorable dialogues like 'Don ko pakadna mushkil hi nahin, namumkin hai', the instrumentals are superb. Kudos to Shankar-Ehsaan-Loy for giving the underrated tune a much-needed makeover.

This lavish enterprise has a little bit of everything. An eclectic mix of old, new and everything in between; Don is an unusual presentation of old wine in new bottle.
Rediff Rating:



What do you think about the story?








Read what others have to say:





Number of User Comments: 29








Sub: don is don

its foolish to compere the two sound tracks of different era's , farhans team did a great job, all the soundtracks of this album are ...


Posted by ishrat









Sub: don music

don music is good


Posted by manal









Sub: Don - Remixed

I think you are right. Except Aaj ki Raat which to me is also one of those dancy techno nos which our composers keep on ...


Posted by Rahul Poddar









Sub: looney tunes ...............

u kno guys ........1st of all i think u shud fire ur so called critic immediately.. fopr once he doesnt appreciate nething good... and yea ...


Posted by javoo









Sub: gr8

the music of don is perfect w.r.t the story of movie and situations inthe movie.


Posted by varun






Disclaimer