Advertisement
August 29, 2006


Dharmendra has acted with many filmmakers in his career, but Hrishikesh Mukherjee holds a very special place for him. The actor-director, who passed away on August 27, made some beautiful movies like Anupama, Guddi, Chupke Chupke and Satyakam. Dharmendra [Images], currently shooting for Apne in Rajkot with sons Sunny and Bobby Deol [Images], spoke to Suresh Parekh about his long association with Hrishida.

You shared a special bond with Hrishida...

The day I heard of his passing away was the saddest day in my life. The industry has lost a very big director and I have lost my beloved brother. I have worked with him in many films. He was such a personality that everyone had great respect for him. He respected everyone too. I could never find any minus points in him. He was the sort of director who would take the actual shots needed for a film. He didn't waste time filming something that wasn't needed. He was down-to-earth, and made down-to-earth movies.

Some of his films are masterpieces.

Yes. One of the reasons why people like his films is because the characters were true to life. He made films like Asli Nakli, Anadi, Anand, Chupke Chukpe, Guddi... Each has a special meaning and is quite different from the rest. I have not seen a director with such variety.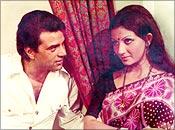 He was unwell and hospitalised for quite a while. Did you visit him?
Yes. He had a pipe running up his nose and asked me to remove it!
Which of your films with Hrishida is your favourite?

All his films were very good, but I liked Guddi, where he showed what film stars are all about, and how young girls think about them. When I used to go out, young girls would meet me and say they loved Guddi and wanted my autograph.

What about Satyakam?

Satyakam was very special. It got me a nomination for Best Actor at the Filmfare Awards. His stamp of class was evident in all his movies. Every role was natural. I also liked working in Chupke Chupke. I hardly realised I was acting in that film; it was all so natural. Even today, when Chupke Chupke is aired on television, I watch it.
You have worked with a number of directors. Does any one compare to Hrishida?

There is no one like him in the industry today. He was very special.