Home > Movies > Reviews

Naksha offers some good options

Sukanya Verma | August 22, 2006 12:48 IST


| | |
| --- | --- |
| | |
| | |
| | |
| | |
| | |
| | |
| | |
An action-adventure involving a treasure hunt, the cover for the Naksha soundtrack closely resembles the poster to Penelope Cruz-starrer Sahara. Originality aside, Naksha, directed by debutant Sachin Bajaj, features Sunny Deol, Vivek Oberoi and Sameera Reddy.

Pritam and Sameer collaborate to produce the sound and lyrics on the album. Is it any good? Let's find out.

Suzanne D Mello, Kailash Kher and Indee swing effectively to the zingy Techno bhangra rap. This one's got solid potential to be a chartbuster. Rocking from head to toe, Shake it more than lives up to its title and kicks in the adrenalin. Be sure you will hear a lot of its zippy Dhol club mix by Eric Pillai at nightclubs in the not so distant future. Considering this is the winning track of this album, brace yourself for yet another version. This one, to showcase Indee's motor-mouth rapping.

Pritam twists and bends Junoon's Sayonee-style high-voltage guitar strumming, lacing it with Abhishek Nailwal's piercing vocals in Yaara ve. Somewhere along the line, the song ceases to be all-sound-no-fury, but again the remix does much better than the original. Zero db explores the hidden potential in Yaara's rhythm. His Tumbi house mix successfully brings the house down.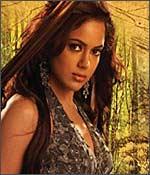 Sonu Nigam could manage the colourful U & I, but only if the chorus wasn't shrieking hysterically. Also, the lyrics are pretty hard to follow. But if you don't mind dancing aimlessly to meaningless music, the song works okay. Interestingly another version, U & I - Dil se mile dil fares dramatically better. Pritam, alongside KK, wields the microphone for this one, and they work an infectious, foot-tapping track into the song. More balle balle comes your way in yet another take of U & I. Punjabi pop star Labh Janjua collaborates with Rana Majmudar on this rollicking ride.   

The seductive and steamy Nasha appeals with its tangy middle-eastern flavour and Alisha Chinai's saucy vocals.

In 1975, Dharmendra strutted about manically to the lively, wacky Main jat yamla. Cashing on the popularity of the classic, Pritam spins another enthusiastic dedicated to junior Jat Sunny. Though Sonu Nigam and Shreya Ghosal's vivacity for Jat yamla can hardly be questioned, the track doesn't work that great. Deejays A Myth and Kiran's contribution to its remix is simply heavy-duty percussion.

Much as we appreciate the effort behind these numerous interpretations of each song, is it necessary for the music producers to go overboard with the idea? Why can't they get it right in the first attempt?

Naksha is a fairly engaging soundtrack if you are willing to pick and choose between the original and its remixes.
Want to see this movie? Check out Rediff Movie Tickets!