Advertisement
August 18, 2006 15:44 IST


'Don't reveal the end,' goes the old Bollywood refrain. Ahista Ahista [Images], however, could do with a warning note, 'Don't let the beginning put you off.' For it is a delightful movie -- but it grows on you, like the title suggests, slowly.

The build-up to the film has been steady. Music videos set against the gorgeous Delhi winter have been seducing you for weeks now, accompanied by Himesh Reshammiya [Images] songs.

As a result, you have been eagerly awaiting a return to good old storytelling with director Shivam Nair and his crew. You are anticipating a story about plausible people and their palpable joys and pains.

You are waiting to see if lead star Soha Ali Khan [Images], in her first post-Rang De Basanti [Images] release, moves closer to the title of national sweetheart -- a post once famously held by her mum [Sharmila Tagore].

You almost want to like this movie even before you have even seen it, but are annoyed by what greets you at first: An unbelievably clean marriage registrar's bureau, peopled by incredibly sweet, golden-hearted characters straight out of Saeed Mirza's Nukkad (television) series. They are an affront to Delhi's rough, macho self-image and to the intelligence of anyone who has spent two minutes on the capital's streets.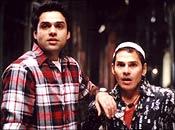 With realism thus given the short shrift, one begins to fear if Nair is headed for nauseating romanticism.
Enter Megha (Soha Ali Khan), who's run away from Nainital to get married. Her groom (Shayan Munshi), much to her shock, doesn't show up, leaving her penniless and vulnerable in big bad Delhi.
In comes Ankush (Abhay Deol), a professional marriage witness. His brilliant ideas of saving her include smuggling her into a friend's home without the mom's knowledge, spending the night together at Nijammuddin Aulia's Dargah, listening to the qawwals, spending another night at the kind of place where they rent you rooms by the hour...
Soha, thankfully, brings beauty and dignity to these implausible initial proceedings, while sloppy dialogue and Abhay's limited facial expressions make your heart sink further.
Then, mercifully, everything changes. One of Ankush's cronies suggests Soha live as a resident-volunteer at an old age home. The plot, which had limped along till now, suddenly comes to life and transforms the movie. The cast and crew begin to move like a finely-tuned orchestra. The initially annoying cronies assume crucial importance.
The dialogue, and Abhay, improve by leaps and bounds, handling some of the film's toughest scenes with panache: The  dawn of love between the unlikely pair, the first hasty hug and kiss, the conversion of the padre at the old age home to their cause, the subtle undercurrent of class conflict... the film consistently tugs at your heartstrings with several warm and delicate scenes.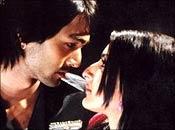 The plot is turned on its head again when Megha's original lover shows up again. The see-saw battle of love continues tantalisingly and plausibly till the very end.
Of course, we will not reveal the end. And yes, Soha could indeed come many notches closer to that national-sweetheart title with Ahista Ahista.
Abhay impresses progressively.
Delhi, with its imposing Indo-Islamic architecture (notice a terrace scene zoom out swiftly to encompass the grandeur of the Jama Masjid), plays a silent cameo in he film.
One cannot but help see in Ahista Ahista the kind of charm patented of late by Iranian cinema, that of beautifully mounted (cinematographer Prakash Kutty) and engaging stories about everyday people and the triumph of their incredible hope, spirit and love.
Give us that anyday, instead of the gratuitous sex, violence and preaching we are usually subjected to.
Rediff Rating: